Americans Gain This Much Weight After Settling Into A Relationship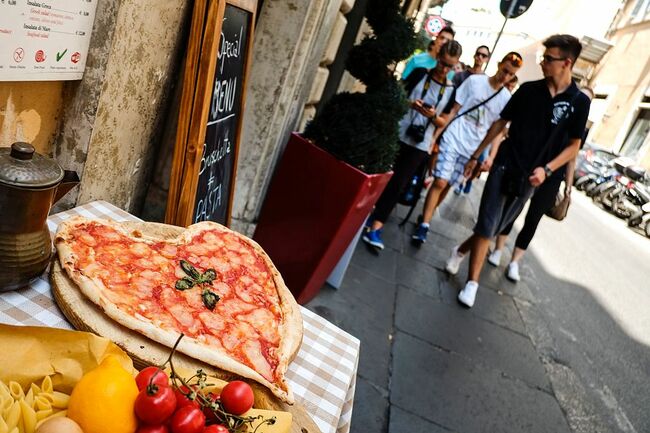 If you've ever been in a relationship, you know how hard it can be to stick to a diet with your partner because you're going out to eat, you're spending more time together and less time at the gym, and you're probably drinking more wine and going out to have fun more often.
So it's not entirely shocking that you may gain a little weight when you first settle into a new relationship and get comfortable, but what may shock you a bit is the amount of weight that the average American does gain.
79% of people who get into new relationships are carrying a bit of "love weight", as it's been dubbed.
A study was done of 2,000 people in relationships and the average answer for how much weight they had gained since getting into the relationship was 36 pounds. "Love weight" is not just a little bit of weight, it's pretty significant!
While 36 pounds is the average for anyone in a relationship, in the first year alone, they gained the first 17 pounds of the 36 total.
The only good news for women, though, is that men are more likely to gain weight in the first year than women are. Men have a 69% chance of gaining weight as opposed to women's 45%.
As to why we gain this weight in a relationship, there are a couple different responses. Being "comfortable" to no longer look your best was the biggest reason, at 64%. Going out to eat OR cooking at home while drinking was the second biggest reason, with a 34% rate.
Also, not surprisingly, over half of the participants admitted to gaining weight in their first year of marriage. This makes sense because you're likely dieting and trying to look great for your wedding and then once you're into that first year, you don't have to worry about it as much!
On the bright side, over half of couples have also said that they have seen success in trying to lose some of this "love weight" over time, so it's not all a lost cause!
Get more from Sisanie here!
Photo: Getty Images
Sisanie
Sisanie is co-host of Ryan Seacrest's show On Air With Ryan on KIIS FM Los Angeles' Hit Music radio station from 5am-10am.
Read more