Nick Jonas' Family To Meet Priyanka Chopra's Family In India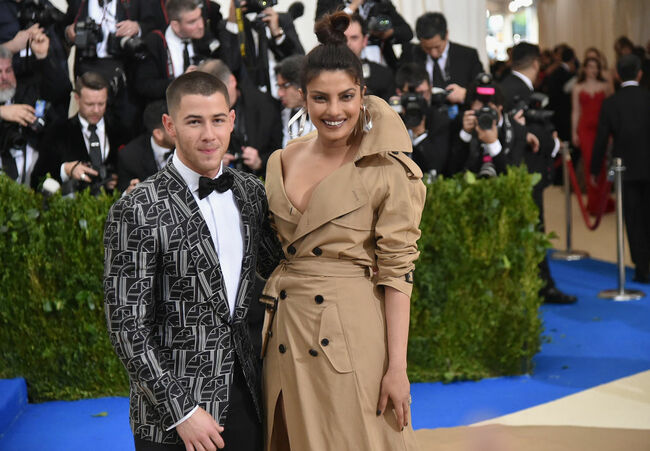 There are a few things we already know:
Nick Jonas and Priyanka Chopra are engaged.
The couple is clearly very serious about each other... hence being engaged.
Some of Nick's family have spent time with Priyanka - she attended his cousin's wedding with her and has been seen out with his brothers Joe Jonas and his fiance, Sophie Turner.
Nick has also met Priyanka's mother, Madhu during the couple's week-long getaway in India back in June.
Things that we are learning now:
Nick's family is about to travel to India for a trip where they will meet Priyanka's family for the first time all together!
A source shared with PEOPLE that the families will be getting to know each other during the international Jonas family vacation - though it is unclear just how many members of the Jonas squad will be going to India.
Is it just mom and dad? Is Frankie coming along? Will Joe and Sophie have time to come as well? What about Kevin, his wife Danielle and their two young daughters?
We may have to wait a little longer for the details on that... but we do know that whoever from the Jonas family is present will be getting to spend time with Priyanka's mother, Madhu, and his brother Siddarth.
The trip comes one month after the news of the couple's engagement, which is said to have occurred on Priyanka's 36th birthday, while she and Nick were in London.
Priyanka is currently working on upcoming film The Sky Is Pink in Mumbai, and Nick was last seen celebrating his brother Joe's birthday in Miami, so they will be reunited along with the families on this family trip.
I can just imagine the mix of emotions Nick and Priyanka are feeling ahead of the big "family meeting the family" trip! Excitement, nerves, relief... it's a big step, that's for sure.
Now, who thinks we will ever get a public announcement about their relationship and engagement?? They've been keeping things pretty private since they first started dating.
Get more from Producer Erica taking over for Sisanie here!
Photo: Getty Images
Sisanie
Sisanie is co-host of Ryan Seacrest's show On Air With Ryan on KIIS FM Los Angeles' Hit Music radio station from 5am-10am.
Read more