INTERVIEW: What You Need To Know About Khalid's Daytime Village Performance
The countdown is heating up, because the 2017 iHeartRadio Music Festival is right around the corner (we're only a few more days away!). Las Vegas will be taken over by a lineup of superstar artists, both on the main stage at the T-Mobile Arena, and at the Daytime Village presented by Captial One.
Speaking of which, among those taking the stage at the Daytime Village at the iHeartRadio Music Festival this year are is Khalid, who is also set to be a special guest a the T-Mobile arena.
Fans can watch can watch Khalid perform during the 2017 Daytime Village at the iHeartRadio Music Festival via CWTV.com and The CW app, as well as listen on iHeartMedia radio stations throughout the country.
In anticipation of his upcoming performance, Khalid told us five things we can expect to see during his set. Read on to find out what Khalid has teased about what to look forward to.
1. Expect some great Michael Jackson-like dance moves.
"I am very hyperactive on stage. It might not seem like it, but I'm a dancer when it comes to the stage. I mean, I can't dance off the stage, but the moment that I touch the stage, I'm like 'Where are all these moves coming from? Who Am I? Is Michael Jackson living within me?' I don't know, I try."
2. The passion takes over when he hits the stage, and sometimes he loses track of himself.
"I'm very passionate. So, once I sing songs, sometimes I get so into it that I'm like, 'Wow, where am I?' Like, I'm in a whole different space. I'm living out the song like, 'Wow,' like, I can really feel the story, because I want the audience to connect with it as well."
3. Sometimes, he can hear his fans' "I love you" shout-outs, and he loves to say it back.
"I can't hear anything when I perform, because my mind just blanks out, but sometimes in between the songs, I'll hear a couple of, 'Hey! I love you!' And I say it back, like, 'Oh, I love you too!' Because I love the fact that fans came out of their way, drove hours, and just to see a show. So, I definitely want to make sure that that love his reciprocated."
4. Expect to sing along with him -- he may just give you the mic.
"I get so nervous, but those nerves hype me up. They get me excited. Seeing people sing every word takes me to a whole other place where I'm like 'Wow!' It's not like I'm just singing to them, it's like we're singing together. It's mutual, it's a partnership. One time, I had given someone the mic out of that excitement, and they almost didn't give the mic back. And so, I'm over here tugging, I'm like, 'Come on, remember it's us. It's a team now. It's a team!'"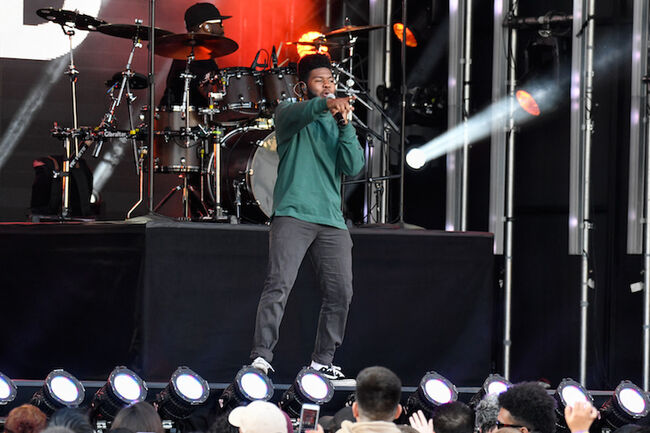 5. He has some amazing cheerleader backup dancers.
"I have two amazing dancers with me on tour who kill it every night, and we're all friends. So, when we're up there, we're literally enjoying each other's company so much that I even forget the dance moves, because I'm just so amazed with how beautiful these ... they're two girls and they're 'cheerleaders.' And I try to do toe touches and all that, it doesn't look pretty, but when they do it, it looks amazing. Maybe I have to learn how to improve that. But they're really great, and it's always a fun show. I always have fun every time I perform."