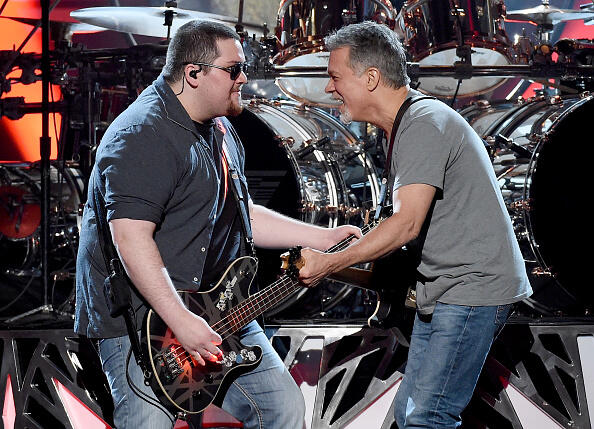 @gettyimages
Every one of us has something or someone who shaped us.
Mentors. Coaches. Leaders. Friends. A spouse or partner. Maybe that catalyst was a moment. A religious leader. It could have been a communal moment, like a church service or a political speech.
For a 17-year-old kid in Houston, Texas, it was a concert at place which is now one of the largest mega-churches on the planet... Joel Osteen's Lakewood Church.
Back then, it was the Summit. Home of the Houston Rockets... and the place to see the big arena tours in my hometown.
January 31st. 1992. My friend Mark - who turned me on to Van Halen - asked me if I wanted to go to the show, and, to be honest, up until that point, most of my live musical experiences involved the contemporary Christian type artists and bands, none of whom were ever on the level of a massive touring act like Van Halen, nor did any of those bands have the sort of visual firepower in an arena-show-situation like a band like Van Halen had.
Frankly, I had no idea what I had ahead of me that night.
The album - was cleverly called "For Unlawful Carnal Knowledge." If you know VH, clever titles were part of the 'thing' after their album 1984. They'd broken up with lead singer David Lee Roth, brought in Sammy Hagar, and were having an unprecedented pop-rock run, meaning, they had HITS on pop radio. Albums like 5150 and OU812 spawned power ballads and anthems which took the band to even greater heights... and that's when my story intersects with this band...
I was mind-blown.
I still see it in my mind's eye - Eddie Van Halen, with a POWER DRILL, kicking off the show with a song called POUNDCAKE... and he's playing the GUITAR in the most incredible way... WITH A POWER DRILL.
I was HOOKED. The music. The guitar. The harmonies between bassist Michael Anthony and Hagar. The way Ed and Alex Van Halen - the drummer - were so insanely in sync... that was the night I fell in love with live music... and in live music on a grand scale. It opened my mind to U2. To other bands and artists - from the Eagles to Bruce Hornsby... to Prince and to Poison. Even to Lenny Kravitz to Madonna.
It all started that night. In Houston. With Eddie Van Halen, and a power drill, taking a guitar to places I'd never seen... and which we may never see again.
Every story has a beginning. Every passion has a catalyst. Every fire has a spark.
That was mine. Eddie was a part of it. The rest... has been my life since then... which always came back... to music.
Eddie Van Halen was - and is a national institution. A gift from the rock - and music gods - who walked among us for a time. He changed things. Moved art forward and left the world better because of it.
I had always hoped for one more reunion tour... where Dave, Sammy and Gary Cherone would again take the stage with the band - including Michael Anthony AND Wolfgang Van Halen, Ed's son. Maybe it was a dream...
... but rather than dreaming another dream because that dream is over... maybe I'll continue to dream that dream... because I have this idea that the legacy of Eddie is untapped in his son, Wolfie... and maybe that... will create a legacy which takes the story of this great musical family... to a new level.
That's what dreams are made of, right?
Rest in POWER, Eddie. Like Lenny Kravitz said, "heaven sounds electric" tonight.