A Definitive Ranking Of Every Selena Gomez Collaboration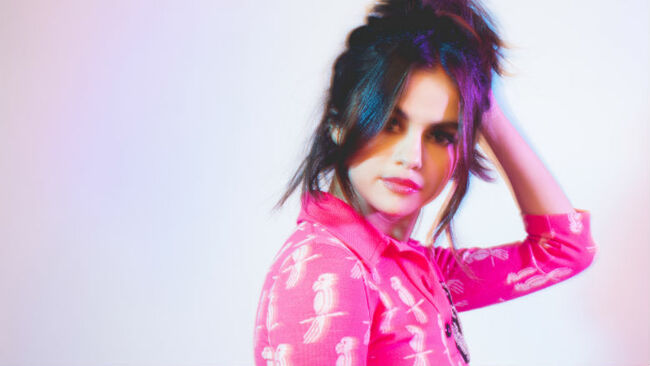 We're approaching almost three years since Selena Gomez released her last album, Revival, but the pop titan has certainly kept fans at bay with new music. In a strategy to keep listeners consistently fed, Team Gomez has helped the chart-topper maintain her shine in the spotlight with a number of collaborations. From the rousing sounds of EDM anthems to the trending rhythm of Latin pop, the entertainer has been able to fill the airwaves with team-ups of all kinds, particularly while she tends to her personal health.
In honor of "I Can't Get Enough," her newest collab alongside Benny Blanco, J Balvin and Tainy, iHeartRadio decided to take a trip down memory lane to rank all of the collaborations under her belt. Now, we excluded the just-released single (since we're still digesting it) and her work alongside her former band, The Scene, as they were a collective act for three LPs. However, our ranking includes everything released during her Disney days up until her recent 2019 duet with Julia Michaels. Scroll on below to see how Gomez's collabs sized up against one another!
19. A Song for Orlando - "Hands"
18. Prince Royce - "Already Missing You" featuring Selena Gomez
17. Selena Gomez & The Scene- "Intuition" featuring Eric Bellinger
16. Selena Gomez & Drew Seeley - "New Classic"
15. Selena Gomez & The Scene - "We Own The Night" featuring Pixie Lott
14. Cashmere Cat - "Trust Nobody" featuring Selena Gomez and Tory Lanez
13. Forever the Sickest Kids - "Whoa Oh! (Me vs. Everyone)" featuring Selena Gomez
12. Disney's Friends for Change - "Send It On" featuring Demi Lovato, Jonas Brothers, Miley Cyrus and Selena Gomez
11. Selena Gomez - "Fetish" featuring Gucci Mane
10. Selena Gomez & Demi Lovato - "One and The Same"
So much of Gomez's history is imbedded in her Disney stomping grounds, but one of the most important things to come out of that era is the relationship she made with her childhood best friend, Demi Lovato. While we're unsure of their current status, "One and The Same," a duet from the pair's 2009 Disney Channel Original Movie, Princess Protection Program, is a perfect reminder of simpler times when teen pop/rock ruled the Disney scene.
9. Kygo & Selena Gomez - "It Ain't Me"
Believe it or not, "It Ain't Me" songwriter Ali Tamposi called the early version of the song "pretty garbage." However, once she and fellow songwriters Andrew Wotman and Brian Lee "Fleetwood Mac'd it," they were left with a stirring breakup anthem — one that Gomez related to. Later on, Kygo added his tropical house touch to the production and the pop star came into the picture to share a similar emotional vision as Tamposi. The ending result highlights some of the acts' strongest qualities.
8. Selena & Selena Gomez - "Bidi Bidi Bom Bom"
Back in 2012, Selena did right by one of her many idols, the original Selena (who she was named after), and recorded a modern version of her smash, "Bidi Bidi Bom Bom," as a duet for the fallen singer's second remix album, Enamorada de Ti. As the story goes, Quintanilla's father and manager, Abraham, specifically chose the pop star to record the duet because of her cover of the hit during her live show. What's great about the new rendition is that Gomez doesn't try to be anything that she's not. She knows that Quintanilla takes reigns of the song and follows her lead in the best Spanish that she can deliver, all while keeping in line with the essence of the Mexican cumbia pop original.
7. Selena Gomez & Ben Kweller - "Hold On"
Whether it's dance-oriented tunes or moody pop tracks, Gomez's current sound is easily identifiable. But in 2014, the chart-topper switched things up, pairing with singer/songwriter Ben Kweller for "Hold On," the theme song to their film, Rudderless. On the three-minute track, the two come together for a folk/pop number with acoustic guitar strums and warm harmonies. It's a delightful number that omits the usual studio bells and whistles, leaving Gomez's soothing voice at the forefront to pair with Kweller's delivery.
6. Marshmello & Selena Gomez - "Wolves"
Despite Gomez's various health scares and romantic fallouts, the pop star has still managed to align herself with material that often reflects conquering emotional trials. On "Wolves," her 2017 collab with Marshmello, the pop star walks the middle line of the smoky dance tune, offering a delicate (and sometimes pressing) vocal delivery of her romantic admiration atop the brooding melody and atmospheric production. "The song is very beautiful and personal and the lyrics just have a whole story of its own," Gomez said of the track. "Weirdly, at the same time I was working on it in Japan, I was going through stuff, too, so it's mirrored everything."
5. DJ Snake - "Taki Taki" featuring Selena Gomez, Ozuna & Cardi B
As the years have passed, Gomez's mission to remain a straightforward celebrity has become increasingly clear and part of that agenda has fallen on her identity and culture roots. In 2018, she teamed up with DJ Snake, Cardi B and Ozuna for the Reggaeton-charged "Taki Taki," which heard the former Disney star offer up a fun Spanglish verse that held its own against the contributions by her fellow track stars.
4. Julia Michaels - "Anxiety" featuring Selena Gomez
We all know that Selena suffers from her own share of personal demons, but "Anxiety," a single off Julia Michaels' most recent EP, saw both of the stars relinquish any reservations and sing about how hard it is to deal with the condition. Lyrically, it's a refreshing change of pace for the star, but, more importantly, it's an easy way for her to discuss her battling anxiety without having to do a sit-down cover story interview. It's a simple confessional. There's no turmoil over romance. No subliminal sex references. "Anxiety" is Julia and Selena in their most vulnerable — and it works wonderfully.
3. Selena Gomez - "Good For You" featuring A$AP Rocky
"Good For You" can certainly hold its own without a guest, but the alternate version of the 2015 Revival single is a subtle upgrade. Written in 45 minutes by Julia Michaels and Justin Tranter, the song hears Gomez singing about wanting to look good for her lover above all. At the time, the pop star expressed her interest in ASAP Rocky's LP, At. Long. Last. A$AP, and sent the rapper a text message in regards to the potential team-up. Rocky was down, but Gomez wanted him to really own his contributions, so he went to record his verse the next day and co-produced (with frequent collaborator Hector Delgado) an intensified version of the cut with added beats, bass and snares. The end result hears the back and forth perspective of lust and love.
2. Zedd - "I Want You To Know" featuring Selena Gomez
Some of the best collaborations happen as accidents. In 2014, Zedd admitted he was working on music for his sophomore album when he needed to use the restroom. For some reason, he asked to use the one at a nearby studio. By coincidence, Gomez was there working on her own music and that's the early start of these two's encounter. Using files from his sample library of noises that he's collected in recent years, Zedd started work on "I Want You To know," which was penned by Ryan Tedder, before asking Gomez to lay down her vocal. Once he heard her delivery, it was a no-brainer. In fact, she was reportedly the only person who laid down vocals for the track. Interestingly enough, the lovestruck dance tune reportedly kicked off a brief romance between the pair.
1. Charlie Puth - "We Don't Talk Anymore" featuring Selena Gomez
As previously mentioned, the personal contributions that Gomez has had with her music or its collaborators is undeniable, but "We Don't Talk Anymore," her breathy duet with Charlie Puth, takes the cake as the pop star's best collaboration to-date. We all know that Puth is a man of many traits, so he initially drew inspiration for this sullen anthem from a good friend, who went from consistently talking about his girlfriend to distancing himself with no communication. After being introduced to Gomez by Taylor Swift, the two spoke about a potential team-up, but ended up forming a friendship. That bond led the singer/songwriter to ask Gomez to duet with him on the track after he played it for her via FaceTime. Now, the chronological events get tricky after this, but we do know the pop darling flew to Puth's rented Hollywood Hills home at 2 AM to cut her vocals in his makeshift recording booth in a closet.
As explained in his Billboard cover story, Puth and Gomez had a "short-lived," but "very impactful" romance, which ended up having a big impact on the latter and resulting in a breakup. As for the chilliest post-break-up anthem, well, the track found new meaning for Puth and helped Gomez nab an appearance on the most-viewed YouTube music videos of all time list. Coincidentally, the clip, which has garnered over two billion views, doesn't include an appearance from the star. Sometimes life really does imitate art.
Photo: Katherine Tyler for iHeartRadio