December 2018 TV Premieres: 'Fuller House,' 'Marvelous Mrs. Maisel' + More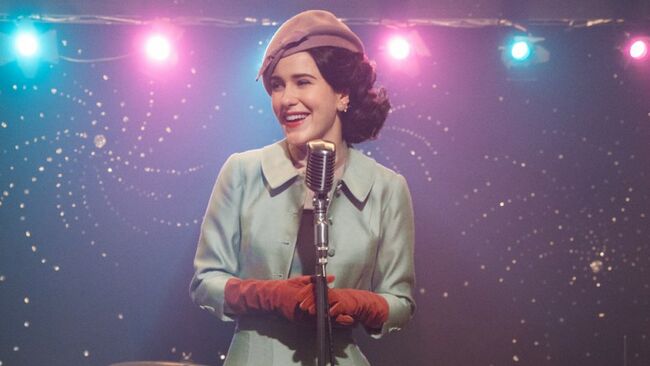 Christmastime is near and the snow flurries are blowing in now more than ever. But if snowball fights and snow angels aren't your sort of thing, then it's the perfect excuse to stay inside and warm up with the tube.
This December welcomes the return of must-watch series like Fuller House, Top Chef, The Marvelous Mrs. Maisel and tons more.
Scroll down, below, to see which of your faves are coming back to the small screen this time around.
Saturday, December 1
Memories of the Alhambra (Netflix, new Korean drama series)
Hanazuki: Full of Treasures (Discovery Family, new children's series)
Sunday, December 2
Berlin Station (Epix, Season 3)
Nightflyers (Syfy, new drama series)
Monday, December 3
Who Do You Think You Are (TLC, Season 11)
The Brokenwood Mysteries (Acorn, Season 5; U.S. premiere)
Finding Joy (Acorn, Irish comedy series; U.S. premiere)
Vidago Palace (Acorn, Portuguese-Spanish drama series; U.S. premiere)
Tuesday, December 4
Top Chef (Bravo, Season 16)
Top Chef: Last Chance Kitchen (BravoTV.com, new season)
The Profit (CNBC, Season 6)
Legends of the Lost with Megan Fox (Travel Channel, new docuseries)
Kids Baking Championship (Discovery Family, new baking competition series)
Paranormal Lockdown (Destination America, Season 3)
Wednesday, December 5
The Marvelous Mrs. Maisel (Amazon, Season 2)
Border Live (Discovery, new docuseries)
Deal or No Deal (CNBC, new game show revival)
America's Mississippi (Smithsonian Channel, new documentary miniseries)
Thursday, December 6
The Great Holiday Baking Show: Holiday Edition (ABC, Season 4)
Botched (E! Season 5)
Kids Baking Championship (Discovery Family, Season 3; new network)
Sunday, December 9
Counterparts (Starz, Season 2)
Tuesday, December 11
The Challenge: CT'S Getting Married (MTV, new miniseries)
Wednesday, December 12
Champaign, ILL (YouTube Premium, new comedy series)
Thursday, December 13
The Carbonaro Effect (TruTV, Season 4B)
Friday, December 14
Fuller House (Netflix, Season 4)
Travelers (Netflix, Season 3)
Tidelands (Netflix, new drama series)
Saturday, December 15
The Price of Fame (Reelz, Season 1B)
Monday, December 17
Blood (Acorn, Irish drama series; U.S. premiere)
Tuesday, December 20
Ex on the Beach (MTV, Season 2)
Wednesday, December 21
3Below: Tales of Arcadia (Netflix, new drama series)
Marvel's Runaways (Hulu, Season 2)
Monday, December 24
Murdoch Mysteries (Acorn, Season 12; U.S. premiere)
Tuesday, December 25
Watership Down (Netflix, new animated miniseries)
Friday, December 28
Extreme Love (We TV, new docuseries)
Sunday, December 30
The Orville (Fox, Season 2; moves to a regular slot on January 3)
Photo: Amazon