Florida Georgia Line Keeps It 'Simple' With CMT Music Awards Performance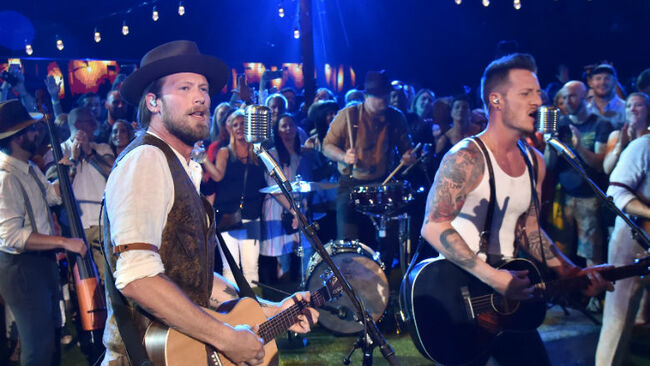 Days after it was announced that Florida Georgia Line would follow in the footsteps of Britney Spears, Jennifer Lopez and more with a Las Vegas residency, the country titans took to Nashville for the fan-voted-2018 CMT Music Awards and offered the world television premiere of their new single, "Simple."
For their performance, Tyler Hubbard and Brian Kelley kept it rather, well, simple, by singing the new cut in a sea of spectators. Surrounding by small lights hanging above their heads, the country duo pulled out the banjo and some whistling for the number. It seemed fitting for a platform like the star-studded award show or your nearby dive bar. The point of the performance was to make things look and feel easy. "Simple and another new cut called "Colorado" serve as the band's first taste from their upcoming fourth studio album.
Beyond their performance duties, FGL was on-site of the ceremony as leaders of the nomination pack with four potential titles, including Video of the Year ("Meant To Be" with Bebe Rexha), Collaborative Video of the Year ("Meant To Be" with Bebe Rexha), Duo Video of the Year ("Smooth") and CMT Performance of the Year (From CMT Crossroads: Backstreet Boys and Florida Georgia Line, "Everybody"). Earlier in the evening, the pair joined the pop collective on stage to accept the award. Scroll on below to see their speech!
Just last week, FGL's Tyler Hubbard explained to iHeartRadio that "Simple" was born out of their urge to keep things as uncomplicated as possible. "[It] was born out of an idea that I kind of had, just living in a world where things get so complicated, and everybody seems to want to complicate things," he admitted. "And the majority of the time, I just find that for us, it's just easy to keep it simple. There's no need to complicate it, especially when it comes to love, and BK and I's relationship with our wives and our families. [It's] just a little reminder to simplify things every now and then, and have a good time while you do it."