Panic at the Disco Celebrates Sixth Studio Album With Epic Release Party
If you're a Panic! At The Disco fan, then you've never been more grateful for a record label, because frontman Brendon Urie wasn't necessarily ready to release a full-length album until Fueled By Ramen basically made him. That is, according to Brendon himself.
The frontman revealed during Panic! At The Disco's epic Pray For The Wicked iHeartRadio Album Release Party on Thursday, June 21, that he didn't anticipate releasing what is now their sixth 11-track studio album.
"This album, it surprised me," Brendon shared during the Q+A portion of the live 1-hour radio and YouTube livestream. "I didn't think I was going to have an album right now and my mistake was showing it to the label," he added. "I was just trying to do some Soundcloud."
During an exclusive interview with iHeartRadio prior to the performance, Brendon previously explained that the album is "totally different" than anything they've done before.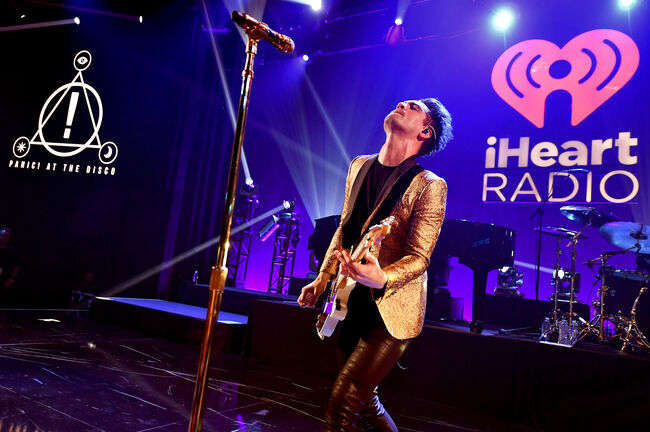 "For me, sonically, it's completely different," he shared. "There are songs that I've never thought that I would ever write."
So far, fans have heard Pray For the Wicked's lead single "Say Amen (Saturday Night)," "High Hopes," and "(F--k A) Silver Lining," all three of which Brendon performed during the intimate, yet super-charged, glass-shattering, mega iHeartRadio Album Release Party.
The frontman, who added that part of his musical growth is thanks to spending the summer performing Kinky Boots on Broadway, kicked off the show with 2016's Death of a Bachelor's "Don't Threaten Me With a Good Time." He then declared "New song! New song!" before performing "High Hopes," the second single off Pray for the Wicked.
Next up was "This Is Gospel" off 2013's Too Weird to Live, Too Rare to Die! and "Death Of a Bachelor" off Panic's 2016 album by the same title, which he joked he "wrote for Sinatra" but never heard back.
"This is what I call my bedroom voice," he then teased before breaking out new lead single "Say Amen (Saturday Night)." "This is as quiet as I go and it's pretty raspy because I've been smoking weed all day."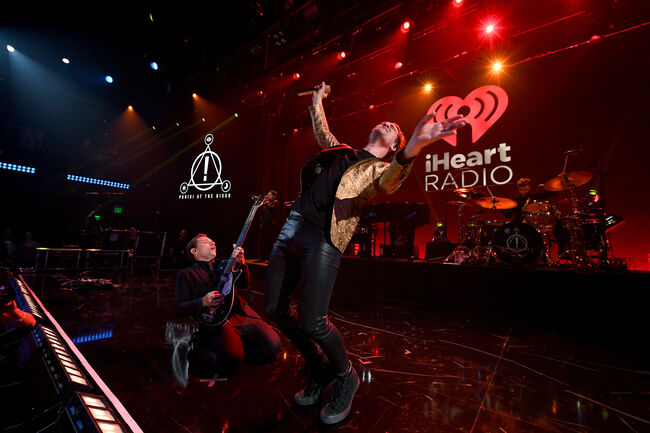 Brendon and the gang closed the radio portion of the album release with 2005 "oldie but goodie" hit jam "I Write Sins Not Tragedies" to a bevy of elated fans before also offering a rendition of 2016's "Hallelujah" and 2013's "Miss Jackson."
"My body is like 'What are you doing?'" Brendon joked, taking a quick break. "'It's not tour yet.'"
The self-proclaimed dad-joking frontman wrapped up the show by performing new track "(F--k A) Silver Lining" and crowd favorites "Girls/Girls/Boys," "Victorious," and Queen cover "Bohemian Rhapsody".
To catch Panic! At the Disco on tour, click here for all the info on their upcoming shows and more. Watch the band perform "Say Amen (Saturday Night)," "High Hopes," and "I Write Sins Not Tragedies" below.
Pray For The Wicked iHeartRadio Album Release Party Set List:
1. "Don't Threaten Me With a Good Time"
2. "High Hopes"
3. "This Is Gospel"
4. "Death Of a Bachelor"
5. "Say Amen (Saturday Night)"
6. "I Write Sins Not Tragedies"
7. "Hallelujah"
8. "Miss Jackson"
9. "(F--k A) Silver Lining"
10. "Girls/Girls/Boys"
11. "Bohemian Rhapsody"
12. "Victorious"