Thomas Rhett & Producers Detail 'Life Changes' During Album Release Party
To say that Thomas Rhett has been experiencing some Life Changes recently is an understatement. This year alone, he's become a father of two, and has been hard at work with a few very talented producers to put together an album unlike any other he's released, appropriately titled Life Changes.
Life Changes is Thomas' third studio album, which features 14 new songs including lead single "Craving You" featuring Maren Morris and his latest, "Unforgettable." The record also includes a song co-written and sung by Thomas' father, country star Rhett Akins, called "Drink A Little Beer." On Life Changes, Thomas worked with a few different producers, including Dann Huff, Jesse Frasure, Julian Bunetta (who was One Direction's producer) and Joe London. The album was influenced by a range of genres from country, to rock, to R&B, to EDM.
To celebrate the release of Life Changes, Thomas took fans inside the making of his new record during the intimate iHeartCountry Album Release Party with Thomas Rhett, Inside the Making of Life Changes. Fans got an intimate inside, first-hand look at how it all came together with each of his producers, and the country star himself.
The night started off with listening to the new album all the way through. Each fan in the iHeartRadio Theater in New York City got comfortable on the couch as they were handed a pair of headphones. Then, Life Changes began to play in full -- much like a silent disco.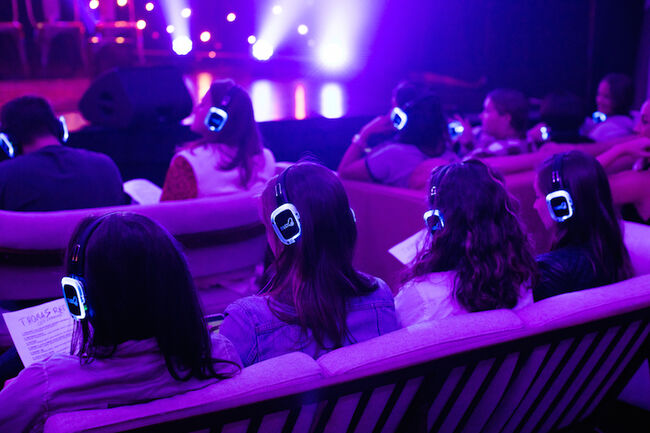 Then, the night really got started when Thomas came out on stage to join host Bobby Bones, and his producers Dann, Jesse, Julian, and Joe. The country star and his song-writing cohorts went deep into the making of his new album Life Changes.
Right off the bat, Thomas revealed that out of 50/60 songs, they cut 22 songs for the album, and from there, chose the 14 final songs that would become Life Changes as we know it today.
Going back to the beginning, the first song Thomas released from Life Changes was his duet with Maren Morris, "Craving You," which was written by Julian and Dave Barnes -- and Thomas wasn't sure about putting the song on the album at first. But after some encouragement from Bunetta, and a lot more listening to the song, he saw the light. Thomas said, "I had my vision for what the record was gonna be, and I had already written 'Sixteen,' I'd written a couple of other [songs], like 'Sweetheart.' I was really adamant about writing everything on the record, and then 'Craving You' came and [Julian] was like 'You should just keep playing it. Keep playing it in your car, play it twice a day in your car.' And I kept listening to it, and the more I listened to it, the more I liked it."
Julian added, "He had an idea for what the album was, and to get him to see what I thought, to have someone look at a blindspot, maybe, and say 'hey, well, here's maybe an angle that you're not seeing, that I think you would really thrive in, the style of music you would do awesome with, just keep listening, envisioning yourself. And yeah, it worked."
The group went through many Life Changes songs like the soulful R&B-influenced "Kiss Me Like A Stranger," of which Thomas says, "I feel like that song is gonna be responsible for the population boom, personally. If you're trying to get lucky, just put that on."
Thomas and Jessie also talked about the song they wrote together with Shane McAnally and Ashley Gorley, "Unforgettable." They wrote the song while on the road, on the bus -- because, fun fact, Thomas Rhett only writes his songs on the bus. Rhett says of the story behind the song:
"This was a 2 a.m. write, I think. Ashley had started playing these piano chords, and he'd said the hook, 'That night was just like you, unforgettable.' And I think we all looked at each other, and there's that moment as writers when someone says the hook of a song [and] it's just the best feeling in the world, because it's almost like you just hit the lottery, at least in your brain, and depending on how many drinks you've had. But we started writing 'Unforgettable,' and I think we wrote it that night/a.m. And a lot of people have asked if that song is personal to be and Lauren, and it's not. We just randomly picked the 14th of October, and the mangorita. I do love mangoritas, they're great."
"Leave Right Now" is one of the songs that stands out the most on Life Changes. The song fuses country music and EDM together, making for a really unique sound and really fun track. The cut was written by Thomas and Julian in Bunetta's Malibu studio, and was the song Rhett was the most nervous about because it's so different from anything he's ever put out. He explains of his decision to include it on the album:
"When we went into writing it, I don't think it was intended to be what it was. We started out with an acoustic guitar, and writing the song, and as the night progressed, the production progressed. And one thing, us country folks, before we go on stage, we love to play these crazy dance jams." He adds, "I thought if I was gonna have a dance jam, it should be me singing it. That was the point for me where it should definitely make the record. But I was also extremely terrified, because it's definitely the farthest I've ever pushed a song and production in my career."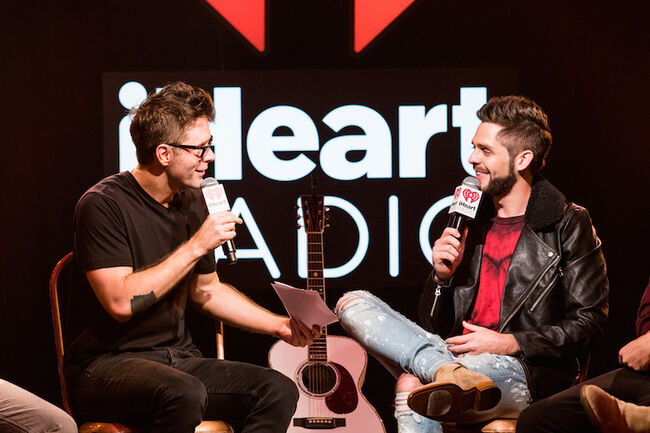 One of the songs on Life Changes that may have thrown fans off when they first saw the track listing for the album is "Marry Me." From the title alone, you may think it's a beautiful wedding song, but actually, it's a song you'd never want to play at your wedding. In fact, Thomas says it's the "anti love story." He explains:
"When we put the track listing out for the record, I got so many comments on Instagram of girls or guys saying, 'Oh did you see the track listing, 'Marry Me,' I'm getting married in October, we should use that for our first dance song.' And [the song] is just the complete opposite. That's the song you wanna not play at a wedding, but at something extremely morbid, whatever celebration that would be. A lot of people asked, 'Why do you wanna put that story on your record? Because the rest of the record is super positive, and lovey, and about what your life is now. I don't understand why 'Marry Me' makes any sense.' So, this song is basically my 'what if' song. Lauren and I have been married for almost five years, there was a time we dated in high school and broke up for forever, and almost actually married other people, which is crazy. But we didn't, obviously. So this is that story of if I had never gone up to my wife and told her how I felt about her, I'd more than likely be sitting at her wedding, probably would have been forever ago. That's a very morbid thing to write about, but it's one of my favorite tracks on the record. I'm such a sucker for a sad song, and this one does it for me. This one yanks my heart strings a little bit."
Thomas calls Life Changes the "most fun" he's ever had making a record, and his most autobiographical. He says, "It was just fun. I think when you start making records out of fear, or out of pressure to to meet a certain standard, I think that's when records get strange. But when you make them, and it's actually fun for everybody, if I'm having fun, I would hope that you have fun listening to it as well."