Bad Bunny Delivers Encouraging Speech At 2018 iHeartRadio Music Festival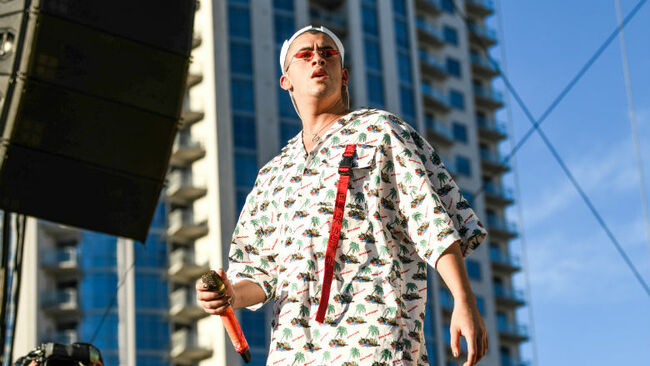 Bad Bunny repped for Latin trap at the Daytime Stage at the 2018 iHeartRadio Music Festival by bringing some of his biggest solo, collab-packed hits, and love for the Latin community to his high-energy set on Saturday afternoon (September 23).
Introduced by Enrique Santos and Dillon Francis, the 24-year-old star donned a backward hat, oversized palm tree shirt, and dark shorts as he made his way through "Estamos Bien," "Cambea" and "Krippy Kush," his team-up with Farruko and Rvssian. However, Bunny's most prolific exposure has arrived, courtesy of his Cardi B and J Balvin's smash, "I Like It." "I'm here to represent the island that I'm from, Puerto Rico, and all the Latinos. Everything I'm doing with music, to be in front of you, is a dream. Thank you," he told the crowd in Spanish, admitting that you're only able to accomplish a dream with hard work. "If you are like me, you have a dream like me, go out there and chase it and work towards it. Motivate and believe in yourself. Thank you for accepting me and letting me perform for you."
Circle back for even more from the Daytime Stage at the iHeartRadio Music Festival, which included show-stopping performances from Logic, Dua Lipa, 5 Seconds of Summer and more.
Plus, if you missed any of this year's iHeartRadio Music Festival, we've got you covered! Fans can re-live all of the best moments from the unforgettable weekend by tuning into a two-night television special, exclusively on The CW, on October 7th and October 8th from 8 p.m. to 10 p.m. ET/PT.
Photo: Todd Owyoung for iHeartRadio