Julia Michaels has made a name for herself by penning hits for Justin Bieber, Selena Gomez and Britney Spears. However, the pop singer/songwriter wanted to remind folks of the notable tracks in her catalogue during the Daytime Village Presented by Capital One at the 2017 iHeartRadio Music Festival on Saturday afternoon (September 23) and it was a memorable watch.
After a kickoff set from Hey Violet, the 23-year-old star arrived to the stage dressed in a comfy ensemble with an oversized sweater with the word "Love" written across the front of it. During the star-studded affair, which is set to include performances by French Montana and Migos, Julia brought her own songs, but the real highlight was her acoustic medley of tracks she's written for others. Among the cuts she performed included Selena Gomez's "Bad Liar," Hailee Steinfeld's "Love Myself," Gomez's "Good For You," Gwen Stefani's "Used To Love You" and Justin Bieber's "Sorry."
Oh, and it's worth noting just how excited the budding star was to hear the audience sing along to her debut smash, "Issues." You can't fake that kind of smile, folks.
Relive the biggest, most unforgettable moments and performances from this year's iHeartRadio Music Festival by tuning in to a special two-night television special on The CW on Wednesday, October 4th and Thursday, October 5th from 8 p.m. – 10 p.m. ET/PT.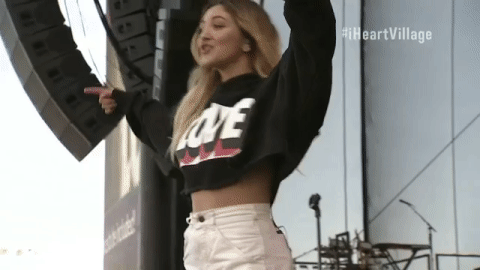 Photo: Mariel Tyler for iHeartRadio