'Bigfoot Bandits' Steal Six-Foot-Tall Sasquatch Statue in North Carolina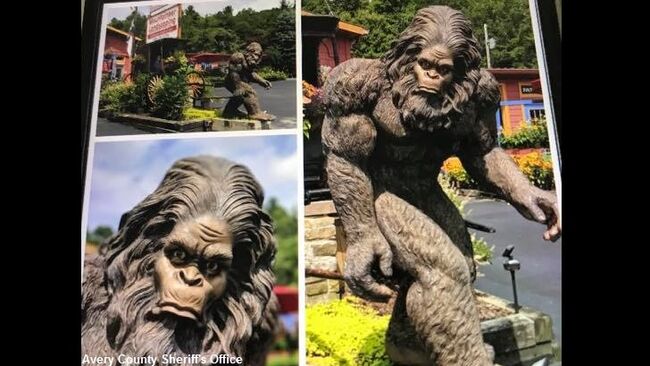 Authorities in North Carolina have become proverbial Bigfoot hunters after someone stole a rather sizeable Sasquatch statue from outside the offices of a landscaping company. In a post on their Facebook page this past Saturday, the Avery County Sheriff's Office asked the public for any information they might have about the six-foot-tall depiction of the cryptid that went missing sometime during the previous night. Based on the size of the statue, which weighs a hefty 180 pounds, it seems likely that the heist was the work of more than one individual.
One of the owners of the landscaping company, Terry Brewer, told the New York Post that they were shocked by the heist as "we've never had any problems before" and had never even considered the possibility that the unsecured statue would be taken. With the school year just getting started at a couple of nearby colleges, she theorized that the Sasquatch may have been stolen as part of a prank by some students and "hopefully they'll bring it back before they get in trouble."
More on this story, including how the North Carolina caper is just the latest in a long line of bizarre Bigfoot statue thefts, at the Coast to Coast AM website.

Coast to Coast AM with George Noory
Want to know more about Coast to Coast AM? Get his official bio, social pages & articles on iHeartRadio!
Read more