An Inside Look at the International Crypto Con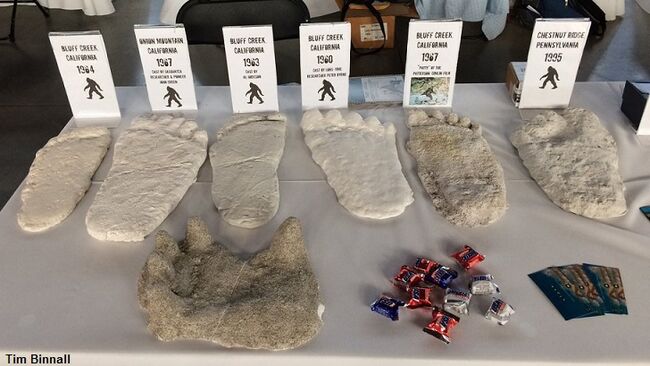 The cryptozoologically curious came together this past Labor Day weekend on the shore of Maine's Casco Bay for a unique showcase of Bigfoot researchers, lake monster investigators, and collectors of creepy creature cases. Following a critically acclaimed 2017 installment, this year's International Cryptozoology Conference in the city of Portland upped the ante in a big way.
The 2018 proceedings, held over the course of Labor Day weekend, were expanded from one day to two and the location moved to an aesthetically-amazing former railroad machine shop which has been repurposed into a concert and event venue. Organized by the International Cryptozoology Museum (ICM), which was conveniently located across the parking lot from the conference site in Portland's burgeoning Thompson's Point development, the event doubled its attendance from the previous year, drawing around 250 people.
The considerable crowd, distinctive setting, and musical performances by the band Missy Mooney & The Tomb of Nick Cage, who played during the breaks between presentations, made for a rather festive atmosphere at the event. This seemed to be case, in particular, on Saturday afternoon when parts of the conference center that were open to the public swelled with people preparing to attend a concert taking place nearby later that night.
Fans of the popular local-band-made-good, The Ghost of Paul Revere, seemed surprised to learn that their ticket to the show also included an unexpected side order of Sasquatch and other assorted oddities when they saddled up to a cash bar opened by the development for early-arriving concertgoers. What resulted was a few short hours which saw a fascinating mix of intrigued interlopers, who heretofore likely hadn't given much thought to Bigfoot and its brethren, mingling with a bevy of cryptozoology enthusiasts and experts that were more than happy to answer all of their questions.
Check out more of our first-hand report on the proceedings from Portland, including a selection of images from the event, at the Coast to Coast AM website.


Coast to Coast AM with George Noory
Want to know more about Coast to Coast AM? Get his official bio, social pages & articles on iHeartRadio!
Read more