Cops 'Save' Man from Baby Squirrel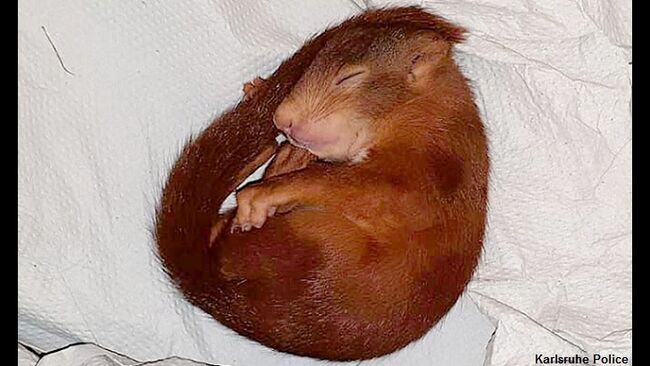 A man in Germany is likely getting a good amount of grief from his friends after he was forced to call police for help because he was being stalked by a baby squirrel. According to a report, the bizarre incident occurred yesterday in the German city of Karlsruhe when the, fortunately for him, unnamed individual phoned for help because the rambunctious rodent would not stop chasing after him. Apparently, his description of the strange scene sounded serious enough that police actually dispatched a patrol car to the man's home.
When they arrived, they indeed found a man being relentlessly pursued by a baby squirrel which officers theorized had become lost and was looking for a home. Luckily for all involved, the animal soon ran out of steam and actually curled up to take a nap. It was then that the cops swooped in and slapped the proverbial cuffs on the creature. After a brief visit to the police station, where cops captured the adorable picture of the creature seen above, the squirrel was subsequently turned over to an animal rescue organization.
More on this truly strange story at the Coast to Coast AM website.


Coast to Coast AM with George Noory
Want to know more about Coast to Coast AM? Get his official bio, social pages & articles on iHeartRadio!
Read more