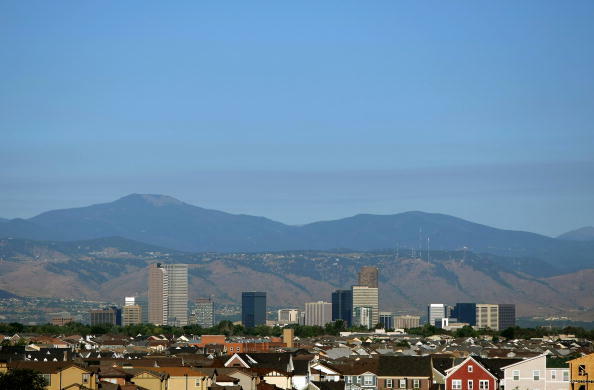 @gettyimages
Wow.
As I write this post, I'm reading about schools being closed in Colorado because of some 18-year-old high school student from Colorado who is infatuated with Columbine High School... and because she's made some sort of threats against schools... they've closed schools in the Denver-area.
Sad.
Mental health is a thing. I have to wonder if there were signs. If there was some sort of sign people may have seen... something which could have revealed that this might have been something someone might have missed? Something someone may have seen that someone could have stopped?
What I'm learning is that musings aren't always just "musings." Rants... are more than just rants. Statements made aren't always just moments of anger.
I'm hopeful we can continue to do what we must in this country to make mental health a real discussion in this country. So many are going through so many things... and it's not something to be embarrassed about. It's not something to hide. It's past time for stigmas... and it's time for proactive action.
I'm thankful for the steps being taken in Colorado right now to keep people safe... and I'm hopeful that we'll be able to work to find a way to get people who might consider some of the most unthinkable things the help they need to move through what they're going through...
#LoveToby
tk@iheartradio.com
Now... let's get to what else is up in the world today...
It's the WEDNESDAY before EASTER... it's also Blah Blah Blah Day: The intent of this day is to begin all of the projects and things that people have been nagging you to do. Call it New Year's Resolutions 2.0. Or Spring Cleaning.
This one is for Game of Thrones fanatics …Think you know how it will end and who will sit on the Iron Throne? If you do, you could win a trip to Croatia, which just so happens to be the site of manyGOTlocations – including King's Landing, Qarth, Braavos and the Westeros Riverlands. Unforgettable Croatia is offering one lucky winner who guesses the ending of the series a seven-day Game of Thrones tour. To enter all you have to do is send your prediction of how Game of Thrones will end – in 1,000 words or less – by 11:59 p.m. on May 5th, 2019. And hope you're picked. (Cosmo)
Easter is jelly bean time …Can you guess the most popular jelly bean flavor in America? Believe it or not, according to a survey byCandyStore.com, it's buttered popcorn flavor. Here are the Top 5:
Buttered popcorn
Cinnamon
Black licorice
Cherry
Watermelon
The See-Food Diet …Some people in China are paying to watch strangers eat fattening food on the Internet. Those eating the food place ads offering to eat or drink pretty much anything -- in exchange for the cost of the food and a small service fee. In exchange, the buyer gets to listen to a stranger describe how delicious that meal tastes, without consuming the calories themselves -- and putting themselves at risk of gaining weight or dealing with health issues caused by obesity. (Vice)
Did you sign up for a gym membership in January? Are you still going? Chances are pretty high that you're not. In fact, a recent study found that a whopping 67% of people pay for gym memberships but don't go. And that that number is even higher with people who sign up in January as part of a New Year's resolution. (Best Life)
Millenials are LYING on their resumes... depending on where you're reading this, you may have heard me talk about this on an iHeartRadio-enabled device yesterday... but... from the data:
When you are job hunting and feel like you've found that dream job you're just dying to get, it'ss uper temptingt o inflate your resume. Not necessarily "lie," just hype yourself up to look a little more impressive, right? That temptation can make us lose sight of the bigger picture, and we end up doing something we wouldn't otherwise ever think about- lie to our boss' face!
GoBankingRates.com surveyed 1,000 people and 11% were Millennials who admitted that they have lied on a resume. One-third said the fib was regarding work experience or dates of past employment. Here are what the resume fibbers admitted to most often exaggerating on their resumes.
Work Experience 38%
Dates of employment 31%
Job titles 16%
Reference 15%
College Education 11%
Responsibilities at previous roles 7%
GPA 4%
Internship experience 2%
Because the job market is tight, it's likely that a LOT of people are inflating their resume. Hiring managers are starting to pay closer attention–and verifying–smaller details on applications and resumes. While we know you don't want to admit that you left your last job after only seven months, know that your honesty will go a long way when compared to applicants who are caught lying.
Source: FOX Business
#TOBYSTAKE: You can try to operate with the "FAKE IT TIL YOU MAKE IT" strategy... but eventually, you have to MAKE IT... and you only MAKE IT by doing... and winning. So try that. It's easier than faking it... because it's real.
ARE DADDY DAUGHTER DANCES... CREEPY??!
Many schools these days will hold daddy-daughter dances, and while some people may think it's a sweet way for dads to bond with their kids, not everyone agrees, and it's become a big issue for one couple, who are now fighting about it.
A man recently explained on Reddit that after seeing an ad for a Valentine's Day daddy-daughter dance he told his wife he wasn't down with the idea. Seems he feels the dances "are creepy and sexualize the relationship between daughter and father," noting, "the whole thing just grosses me out and makes my skin crawl." He adds, "I love my daughter with all my heart, but I don't want to date her."
Well, apparently his opinion didn't sit well with his wife, an even though their daughter is only two, and these dances are years away, she reacted badly. "She lost it. She was shaking and crying," he wrote. "She thinks I would be denying my daughter a special bonding experience. She was worried my daughter would feel so hurt and left out by this."
The dad and his wife are now fighting over the subject, and he is now wondering whether he's in the wrong, and it seems folks on the Internet have mixed opinions.
Several folks agreed that such dances are creepy, with one person noting, "I fully agree with you. I live in the south, and these dances/mentalities are pretty prominent and creep me out." While another added, "You are totally correct in that a lot of these D&D dances are rooted in purity balls which are creepy as (expletive), sexist, misogynistic and focus on treating the daughter like a possession passed from father to husband."
Yet others thought the dad was overreacting and insist such dances are sweet. "Some of my best childhood memories with my dad were having 'Dance Parties,'" one person wrote, while another added, "I don't see how dressing up and having a dance with your dad is sexual." 
The dad did note that he probably would go if it was something his daughter really wanted, but he wouldn't be happy about it, sharing, "If she absolutely wanted to go and all her friends were going that I would go as I don't want to upset her, but if we can we should try to avoid it and not encourage it."
Source:Café Mom
SPORTS ILLUSTRATED GIVES BIG HONOR TO TIGER WOODS
To further honor Tiger Woods for winning The Masters,Sports Illustrated is doing something very rare and very special …
They're putting Tiger on the cover without any headlines -- just a picture of him celebrating his victory.
There have only been a few covers like this in the history of the magazine, including the "Miracle on Ice" at the 1980 Winter Olympics and the death ofMickey Mantleback in 1995.
Amazingly, Tiger has once again shaken up the golf world and has many fans wondering what more to expect in future tournaments. (Sports Illustrated)
PLAYSTATION 5 IS ON THE WAY
Fans of the PlayStation 4 have been waiting patiently to learn about the next console, but there hasn't been a lot of news because Sony has been keeping things a secret … until now.
One of the engineers working on the system stepped forward and announced what they're working on.
Not surprisingly, the PlayStation 5 will be much faster and more powerful. But, some of the coolest stuff with the new system will be improved audio.
Supposedly, they figured out how to make the audio sound like it's coming at you from above, from behind and from the side -- all through your TV speakers or headphones.
While the PlayStation 5 won't be released this year, it could be on shelves as soon as 2020. (Wired) @gettyimages
AND... on TV TONIGHT.... I edited out some of the stuff I wouldn't even bother watching... because I don't think you'd be too into the repeats, the insane and the otherwise mundane... ya know?
LATE NIGHT CHAT SHOWS:
Jimmy Fallon has Kate Beckinsale(The Widow), Ralph Macchio (Cobra Kai), poet Rudy Francisco
Stephen Colbert has James Spader(The Blacklist), authors Anna Palmer & Jake Sherman (The Hill to Die On), music by The Lumineers
Jimmy Kimmel has Gina Rodriguez(Someone Great),Isaac Hempstead Wright (Game of Thrones), music byRüfüs Du Sol
James Corden has Seth MacFarlane(The Orville),Linda Cardellini (The Curse of La Llorona), music byThe 1975
Seth Meyers has Hank Azaria (Brockmire), Melissa Fumero (Brooklyn Nine-Nine), fashion designer Brandon Maxwell
Conan has comedian-TV host Jim Jefferies
PRIMETIME:
Survivor Two tribal councils in one hour; a surprise advantage may pay off for one castaway's game. (CBS)
The Amazing Race (season premiere) Contestants fromThe Amazing Race,Big BrotherandSurvivor compete. (CBS)
SEAL Team Bravo Team is out for revenge as it searches for the person responsible for a surprise bomb attack. (CBS)
Chicago Med (repeat) Connor handles a gunshot victim with ties to Halstead. (NBC)
Chicago Fire(repeat) Brett, Foster and Kidd help a boys' hockey team. (NBC)
Chicago P.D. (repeat) Intelligence tracks a cache of machine guns. (NBC)
EmpireJ eff Kingsley seeks the truth about what really happened between Lucious and Tracy Kingsley. (FOX)
Star Simone and Alex get ready to face a newcomer for their ASA performance. (FOX)
Riverdale Jughead and FP set out to find who's responsible for a tainted batch of fizzle rocks. (CW)
Jane the Virgin After talking to everyone else about what is going on in her life, Jane turns to Petra for a straight answer. (CW)