Good morning.
I don't know why I've let the Notre Dame Cathedral fire get to me as much as it has. I've actually been thinking about it since yesterday afternoon, when I watched the breaking news coverage virtually road-block everything in the news cycle.
Maybe it's because after seeing some pretty amazing structures when I was in Italy last year, history made some sort of connection of some sort with some place in my soul. Maybe it's because I had always taken for granted that one day I might be able to see this place at some point in my life. Maybe it's because this place which survived two world wars, a French Revolution and so much more... was nearly completely destroyed.
I'm not sure. In thinking about it now, over a cup of coffee, I think that it's a reminder that nothing is forever. Nothing lasts forever. We're gifted in this life with time and what we do with it - what we experience with it - moment by moment - is completely up to us. Time isn't a given. What is here today isn't certain to be here tomorrow. And so we need to make the most of right now. This moment. Before it's gone.
Fortunately, fate protected this Cathedral. What was destroyed can be rebuilt. What still stands can be restored. But if we want to see it as it is now or as it will be when it's returned to its previous glory, well, we best get to planning that trip... because as we've learned over the last 24 hours... nothing... is guaranteed.
Sorry to get deep this morning. But for some reason... this one just kinda got to me.
Thoughts? Message me...
tk@iheartradio.com
#LoveToby
Let's get into the day. Here's what's up... with your world famous COPY-AND-PASTE ROUNDUP... Thanks for choosing, by the way, to #ReadThisFIRST...
Today... is Wear Your Pajamas to Work Day! Working in content creation on the radio platform, we don't typically have cameras in the studio... so wearing PJ's into work is something which happens somewhat often! Would you get some sort of static if you wore the pajamas to work? Are you wearing 'em to work right now? SEND PICS or it didn't happen! HA!
Here's what's trending this Morning on the Internet of Things®...
Notre Dame Cathedral: The French are vowing to rebuild it after the Paris monument was partially destroyed by a fire.
Los Angeles Clippers: They erased a 31-point deficit to stun the Golden State Warriors in game 2 of their playoff series.
Pittsburgh Penguins: They decided to cancel practice ahead of their do-or-die Game 4 against the New York Islanders.
Sydney Monfries: The Fordham University senior died after falling off a clock tower on campus.
Jackie Robinson: Monday baseball honored the man who broke the color barrier by having all players wear his number 42.
Georgia Engel: The actress, known for her roles on theMary Tyler Moore ShowandEverybody Loves Raymond, died Friday. She was 70.
Puig: The Cincinnati Reds outfielder, and former Dodger, homered Monday night in his fist at bat in his return to Dodger Stadium.
Christian Yelich: The Milwaukee Brewers star hit three homers Monday against the St. Louis Cardinals. He now has seven homers against the Cards in the five games played against them this season.
You guys hear about this stuff??!
Your phone is making you fat… Do you look at your phone when you're eating? According to a new study, you're probably eating more than someone who simply eats without being distracted by anything. In fact, researchers found that people who were distracted by their phones when they were eating increased their intake of calories by 15%, compared to those who weren't looking at their phones while eating. (The Ladders)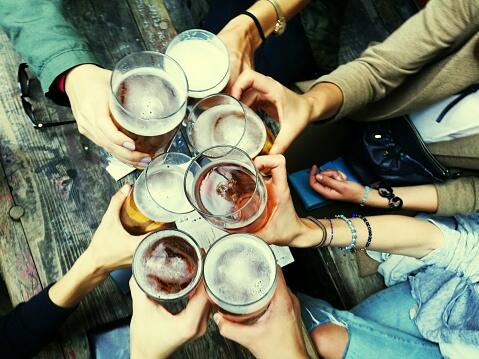 @gettyimages
Is your job making you drink? A new study found that if you have a job that forces you to smile a lot – whether you're a nurse, a restaurant server, a teacher, or you work in mall -- you are more likely to drink after work... and to drink more than those who don't deal with the public all day. (Penn State News)
So beards are gross… A new study found there are more harmful germs in men's beards than in dog fur. "The researchers found a significantly higher bacterial load in specimens taken from the men's beards compared with the dogs' fur," said professor Andreas Gutzeit of Switzerland's Hirslanden Clinic. "On the basis of these findings, dogs can be considered as clean compared with bearded men," Gutzeit said. (NY Post)
Can you guess the most popular fast food item of all time? If you said McDonald's fries, you would be right. Not only is it the most popular fast food item of all time, but according to a report from HowStuffWorks, fries are the most popular menu item at McDonald's as well. Some people think it's the dusting of sugar the fries get before they are frozen; others think it's the fake beef fat flavor that's added to give them that unique appeal. Whatever it is, people love them – and the company is serving up 9 millions pounds of fries per day. (AOL)
Underwater accommodations… This fall, a hotel will open in Poland that features the world's deepest swimming pool. The pool – which they're calling Deepspot – is 148 feet deep and holds 27 times the amount of water of an average pool. Divers can explore the underwater caves, while non-divers can watch from an underwater tunnel. The hotel will also have rooms with underwater views of the pool. (Travel + Leisure)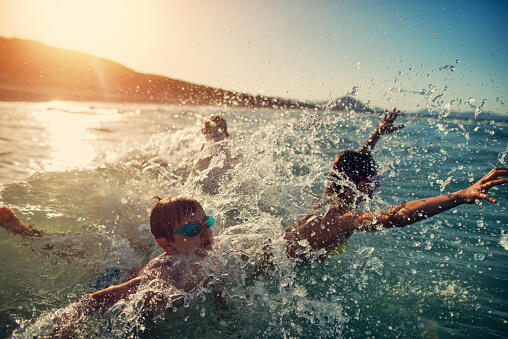 @gettyimages
Would you let someone plan your vacation for you? How about where you will be vacationing? Pack Up and Go will plan a three-day vacation in the U.S. for any budget. There's just one caveat: The destination is a complete surprise. All you do is fill out a survey and pick your budget. Next thing you know, your trip to somewhere is booked. A week before you leave you will get an email with a weather report, so you know how to pack, any luggage restrictions based on your destination, and the location of the airport or train station you need to report to. You can even choose to road trip it if you want to drive to your mystery location. A few days after that you will get an envelope with your accommodation information inside that you are not allowed to open until you reach your mystery destination. Sounds like a pretty awesome adventure – if you like surprises. (Buzz 60)
#TOBYSTAKE - OMG I WOULD SO DO THIS!!! SIGN ME UP! SERIOUSLY... I know I'm like mister last-minute... but I love an adventure... and if this was a three-day run, OMG, I'd love it! Game on!
RICHEST MAN IN CHINA EXPECTS HIS EMPLOYEES TO WORK 72 HOURS A WEEK
During a recent interview, Jack Ma-- who happens to be the richest man in China -- praised his employees for the effort they put in ... while working 72 hours per week.
He calls it the "996" schedule, working from 9:00 in the morning to 9:00 at night -- six days a week -- and went so far as to say that being able to work 72 hours each week is a "blessing." (Daily Mail)
THE WORLD HAS CHANGED SINCE TIGER WOODS LAST WON THE MASTERS
People are still talking about Tiger Woods winning The Masters tournament over the weekend. And, they're probably going to be talking about it for a long time -- especially considering he hadn't won the thing since 2005.
A lot has changed in 14 years. Back then …
The iPhone hadn't been invented. If you had a cellphone, there's a good chance it was a flip phone.
There was no Twitter. No Uber. No Instagram.
We were still about six years away from the first ever episode ofGame of Thrones.
George W. Bush had just started his second term -- and Barack Obama had been a Senator for only 97 days. (Thrillist)
TIGER'S WIN AT THE MASTERS HIT THE SPORTSBOOKS HARD
Plenty of golf fans continue to celebrate Tiger Woods victory at The Masters.
But, plenty of sportsbooks weren't too thrilled that he won -- because they had to pay out some big-time bets.
Three different sportsbooks had to pay out seven figures to gamblers who put money on Tiger, including that one guy who had $85,000 riding on the bet. That payout alone -- at 14-to-1 odds -- was $1.19 million.
Of course, nobody's crying for the sportsbooks because they've taken plenty of bets on Tiger over the years -- that haven't hit. That's a lot of money made off the guy's losing streak. (Action Network @gettyimages
Set that DVR for this stuff... if you don't wanna miss what's on TV today and tonight!
TALK SHOWS:
Jimmy Fallon has baseball legend Alex Rodriguez,Ashley Benson(Her Smell), music by Jade Bird
Stephen Colbert has Laurie Metcalf(Toy Story 4), comedian Ramy Youssef, music by Cage the Elephant
Jimmy Kimmel has comedian Martin Short, Katie Stevens (The Bold Type), music by Christine and the Queens
James Corden has Rob Lowe(Wild Bill),Elle Fanning(Teen Spirit), music byBlood Orange
Seth Meyers has Julia Louis-Dreyfus(Veep),Mark Hamill(Knightfall), artistAshley Longshore
Conanhas comedian Taylor Tomlinson
Ellen DeGeneres has Trevor Noah(The Daily Show), music byJames Bay and Julia Michaels
Live With Kelly and Ryan has Mark Hamill,Lake Bell(Bless This Mess)
Watch What Happens: Live has Lisa Rinna(The Real Housewives of Beverly Hills), singerCiara
The View (repeat) has Priyanka Chopra Jonas,Preet Bharara
The Talk has former NBA star Rick Fox
PRIMETIME:
American Housewife Katie makes a pact with the girls that she and Taylor can go an entire day without their phones. (ABC)
The Kids Are Alright Peggy manipulates William into joining the church choir to keep him engaged in Catholicism. (ABC)
black-ish Jack keeps getting himself into trouble, so Dre chaperones the school dance to keep an eye on him. (ABC)
Bless This Mess (series premiere) New Yorkers Rio and Mike drop everything to move to rural Nebraska in search of a simpler life. (ABC)
The Rookie (season finale) Nolan and Bishop are called to a murder scene that may be tied to a potential terrorist attack. (ABC)
NCIS After human remains are discovered at a construction site, NCIS investigates the murder of a Marine major believed to have been killed in the 9/11 attack on the Pentagon. (CBS)
FBI The team must take down a dangerous drug ring after an American diplomat is killed while being used as a pawn. (CBS)
NCIS: New Orleans When Elvis Bertrand's "daughter" is linked to a murder case, he asks Pride to prove her innocence. (CBS)
The Voice The artists who performed last learn if they'll advance. (NBC)
The Village Nick makes a startling discovery in therapy. (NBC)
New Amsterdam Reynolds struggles to help a young cystic fibrosis patient. (NBC)
MasterChef The top 14 chefs head to the great outdoors for a cookout; a coconut cream pie pressure test. (FOX)
Mental Samurai More eager contestants test their knowledge, memory, puzzles and sequencing abilities on the course. (FOX)
The Flash After discovering that Nora is working with Thawne, Barry and Iris disagree about how to handle their daughter in the wake of this shocking news. (CW)
Roswell, New Mexico When a major revelation comes to light, Max, Michael and Isobel clash over how to deal with the fallout. (CW)