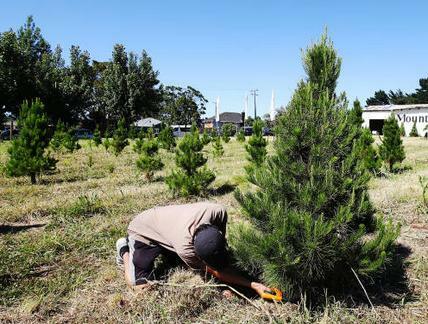 photo credit:  Getty Images
In my lifetime, we've only had a couple of real Christmas trees. Maybe we weren't taking care of them the right way because we were always worried it would die before the big day  :-(   You too?
There's nothing like the fresh smell of pine so here's some helpful hints to keep your tree alive and vibrant:
1. Go to your favorite lot and pick out your perfect tree. Make sure they give you a fresh cut of at least four inches. (Make sure you have four extra inches cut off)
2. Boil a gallon of water (or just a large kitchen pot). Add a quarter cup of Karo syrup and a half teaspoon of bleach to the boiling water.
3. CAREFULLY pour the mixture in to the tree stand with the tree in place.  You may want to use a tree funnel that helps to not burn yourself.
4. Let the tree stand overnight. Don't decorate yet!
5. Check level of water. If it doesn't look like the tree has absorbed any water, then the tree is dead and take it back to the lot to exchange for a new one. If the tree takes water, then continue steps 2-4 until you are finished with Christmas! 
Here's why: When you cut a tree, it sends sap to the wound and it hardens, making it difficult to absorb any water at all. So you want an extra four inches cut off to make a fresh wound so the bark is nice and soft. The Karo syrup feeds the tree the sugar it needs (like the sap used to heal the wound/cut you made). Pouring the boiling water keeps the bark soft and able to absorb the mixture! So you will have a fresh and healthy tree all month long.