Thursday Randoms-Beer Pong for the Classy, Resort Deal Breakers...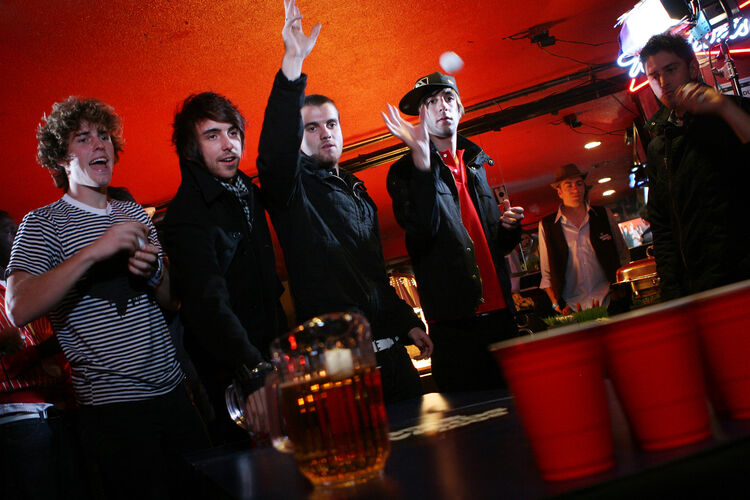 Wi-Fi wishes … According to a new British survey, young Millennials, those 16-24, consider free Wi-Fi the most important factor when deciding where to go on vacation. 40% of this age group, also known as Generation Z, consider free Wi-Fi to be among the top three "deal breakers" when choosing a vacation resort – above price (38%), swimming pool (32%) and walking distance to shops and bars (28%). 90% of Gen-Zers post to social media while on vacation, compared to 64% of vacationers across all age groups. A full third post to social media before they even get on the plane. (Aviva)
Hey, guys, here's an easy way to make yourself more attractive to women …compliment them. According to a study, complimenting others will not only help you seem more attractive in their eyes, but it will make you feel good about yourself too. Kinda the whole "making other people feel good makes you feel good too" thing. Need proof? Here's what matchmaker Denise Levy told Business Insider: "Learning how to properly compliment may just be the key to a second date. Making other people feel good about themselves increases your attractiveness. People put effort into getting ready for a date so take the time to compliment the other person and mean it!"
Want to live like Donald Trump? You can do it for just $600 a night ... thanks to the guy who recently bought the house the President grew up in. While not as fancy as the White House – or Mar-a-Lago, even – the Tudor-style home in Jamaica Estates, Queens, does sleep 17 people comfortably. And if you don't have that many companions, the owner will throw in one ... a life-size cutout of The Donald, which stands in the living room. (AM New York)
Treasure chest ... A California woman's cups are running over with cash – after a jury awarded her $18,000 for having her breast implant photos shared online. The woman sued her doctor for damages after the pictures, with her name attached, began showing up in Google searches. She says she allowed the doctor to take the photos – but only after receiving a written guarantee that her name would never be used. (Daily News)
Girl power comes in all sizes ... as Target is proving with a new line of girl power T-shirts for the youngest females among us. The chain is now selling tees that are all sugar and spice in appearance – while giving lessons about the coolness of scientist Marie Curie and boasting slogans like "future chemist." They're selling out all around the country. (Metro)
Prosecco Pong … College drinking games and Red Solo cups had their place, but these days, beer pong at your next get-together probably isn't gonna happen. Prosecco Pong is a whole other story, though. Party supply store Talking Tables has elevated the classic ping pong drinking game into a classy drinking game. Pink balls, classic wide mouth champagne glasses and delicious Prosecco transform a frathouse drinking game into a boisterous brunch. (Good Housekeeping)

The Boxer Show
Want to know more about The Boxer Show? Get their official bio, social pages & articles on iHeartRadio! Read more