The Backstreet Boys Open Up About Life On The Road With Their 8 Kids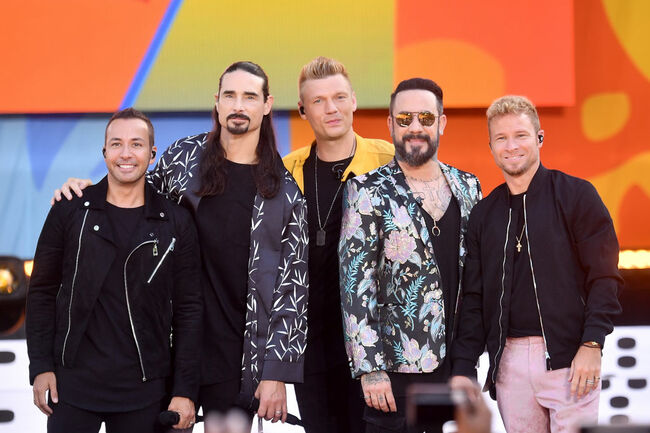 It seems that life for the Backstreet Boys looks a lot different than it did when they first started touring together as a group just about 25 years ago (yes, 25!!)
The group is about to head out on a brand new world tour and have their tenth, yes, tenth!!! studio album coming out at the beginning of 2019. Their last studio album was released back in 2013, so it's been a while since fans have gotten new music from them!
But with things ramping up once again, its hard to ignore the fact that things have changed for the guys as they now have 8 children between the 5 of them!
Kevin Richardson talked to PEOPLE about the changes they have made... and they're pretty significant!
"We have a family room backstage for the family and the wives and the kids to hang out in... It used to be the VIP room, stocked with alcohol for our friends and different people that come to see the show, but now it's the family room."
Nick Carter joked that the room is "VIB" now for "very important baby" and that it's a bit like "daddy daycare."
The band obviously saw huge amounts of success during the boy band rise of the 90's, but the guys admit that they at one point had to really "keep their egos in check."
On the matter, Kevin said:
"When we first had some success, we all went through a little bit of ego, you know, the big head, but we had the five of us to keep our egos in check, because we were the only ones that could do that."
But Howie Dorough says having a family and having kids really puts everything in a different light:
"We got a little jaded, but having our own families gives you those goosebumps all over again... Our kids are amazing. They share their daddies with the world. Fatherhood has taught all of us to slow down and be more selfless."
SO SWEET! I love this new side of the Backstreet Boys! And trust me, kids really do change your views on EVERYTHING.
Get more from Sisanie here!
Photo: Getty Images
Sisanie
Sisanie is co-host of Ryan Seacrest's show On Air With Ryan on KIIS FM Los Angeles' Hit Music radio station from 5am-10am.
Read more