Did Chrissy Metz Really Call Alison Brie The B-Word At The Golden Globes?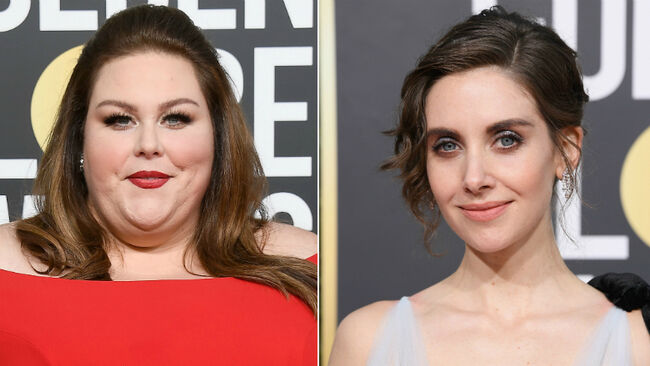 Did she or didn't she, that is the question!
Unfortunately, Chrissy Metz's 2019 Golden Globes night was overshadowed by a hot mic moment that took place on the award show's red carpet. The This is Us actress was accused of calling Alison Brie out of her name during a red carpet interview on Facebook's pre-show after she was heard saying what viewers thought was "she's such a b*tch!" However, once Chrissy got wind of the drama, she quickly denied making the statement, tweeting, "It's terribly unfortunate anyone would think much less run a story that was completely fabricated! I adore Alison and would never say a bad word about her, or anyone! I sure hope she knows my heart."
One of the red carpet co-hosts, AJ Gibson, who was the one interviewing Chrissy at the time of her alleged b-word comment, quickly backed the actress' denial in a statement of his own. "While interviewing Chrissy during the HFPA Presents: Globes Red Carpet LIVE pre-show and as our conversation came to its natural conclusion, we were told to wrap and toss over to our co-hosts on another portion of the carpet, who were on standby with Alison Brie," he told People in a statement. "I jokingly asked Chrissy if she knew who Alison was, as a way to transition into the 'toss' and she played along. She then referred to Alison as a 'babe' and the fun exchange ended."
AJ continued: "Chrissy is an absolute sweetheart and an immensely talented and kindhearted woman. On the heels of the powerful show of solidarity via the Time's Up movement amongst women and allies in the industry on the same Golden Globes Red Carpet just one year ago, I can't imagine a scenario where Chrissy would want anything more than to support her female counterparts."
Even before the host cleared the air, Alison took to her Instagram Story to make it clear that she did not believe the "rumors" about Chrissy's alleged b-word comment. "Nothing but love for @ChrissyMetz!!" she captioned a photo of the two on a past red carpet. "Rumors can't keep us down."