Taylor Swift Surprises Elisabeth Moss With Sweet Message At Golden Globes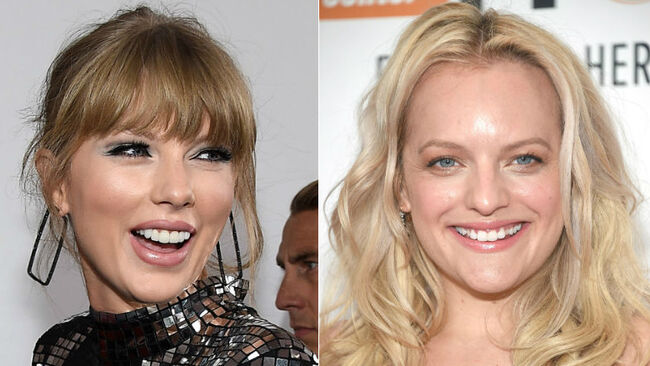 There's nothing quite like a surprise from Taylor Swift.
The "Delicate" singer completely shocked one of her biggest fans who just so happens to be Handmaid's Tale star Elisabeth Moss on the 2019 Golden Globes red carpet Sunday (January 6). Tay sent a surprise video message to the actress that nearly left her speechless after she raved about loving Elisabeth's Golden Globe-nominated show, and thanked her for listening to her music.
"Hey it's Taylor," the 29-year-old singer began her surprise message. "I just wanted to do this video as a shout-out to Elisabeth and say thank you so much for saying in an interview that you listen to my music when you're shooting Handmaid's Tale because I'm a huge fan, I'm obsessed with the show."
Taylor continued: "When I heard that, that literally was a day that all my friends and my mom called me to tell me that'd you'd said that because they know how much I love the show. So, I just wanted to wish you good luck tonight. I hope you have the most amazing Golden Globes tonight. Would love to meet you someday...thank you. Have a great night."
After watching the clip, Elisabeth instantly fangirled, squealing. "Oh my God, that's so crazy!" She then told E! host Ryan Seacrest, "I can't believe she even knows who I am! That's amazing, thank you!" While Elisabeth continued to completely fangirl over the video, she somehow managed to send a response to Taylor's hangout invitation, saying, "Hi Taylor, I'm happy to come over and hang out anytime!"
It was back in September, on the Emmys red carpet, that Elisabeth first revealed her love for T-Swift, telling E! News' Giuliana Rancic: "There's a lot of Taylor Swift sing-alongs, joking around, a lot of Instagram … We have fun, I mean, it's work. It's our job, we're not actually in Gilead, thank God, and it's fun."
Photo: Getty Images