Taylor Swift Makes Surprise Appearance At 2019 Golden Globes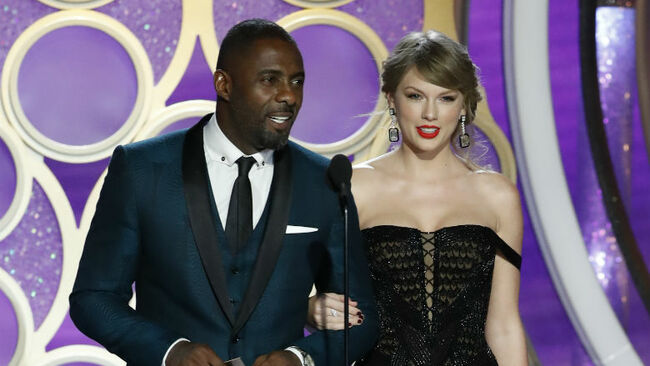 Taylor Swift pulled a fast one on Swifties at the 76th annual Golden Globes on Sunday night (January 6) when she showed up mid-ceremony to present not just one, but two separate awards.
About an hour into the ceremony, the pop titan turned heads when she appeared on stage wearing a strapless black sequin Atelier Versace gown alongside Idris Elba to present Justin Hurwitz with the Golden Globe for Best Original Score for his work on First Man. To make her appearance even more worthwhile, she also announced that "Shallow," the theme song for A Star Is Born, won the title for Best Original Song. Unsurprisingly, Lady Gaga immediately burst into tears and continued to cry on stage over the accolade.
Nonetheless, Swift's appearance wasn't entirely out of the blue as she was on-site to support her boyfriend, Joe Alwyn. His film, The Favourite, was nominated for Best Motion Picture - Musical or Comedy. Scroll on below to relive the star's surprise cameo!
Earlier in the evening, Swift made another surprise appearance by recording a special video for The Handmaid's Tale's Elisabeth Moss, which was played for the Golden Globes nominee during the evening's red carpet. "Hey, it's Taylor," the pop titan said in the video. "I just wanted to do this video as a shout-out to Elisabeth and say thank you so much for saying in an interview that you listen to my music when you're shooting Handmaid's Tale because I'm a huge fan. I'm obsessed with the show."