Sandra Oh & Andy Samberg Call Out Lady Gaga's '100 People In The Room' Meme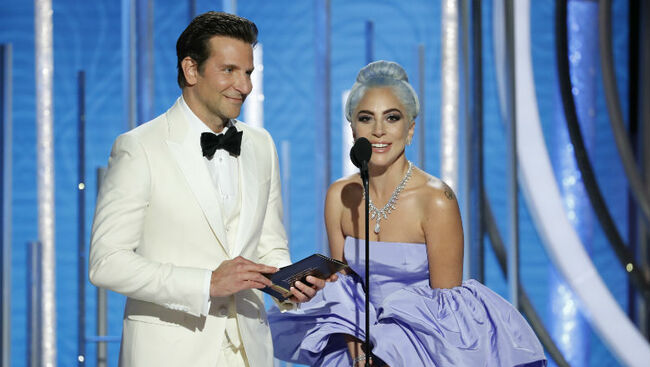 Just a few months back, Stan Twitter poked fun at Lady Gaga's repeated press comment about how much Bradley Cooper believed in her during the making of the pair's critically-acclaimed film, A Star Is Born, and now you can add the Golden Globes to that list.
On Sunday night (January 6), co-hosts Sandra Oh and Andy Samberg hopped in on the hilarity during their opening monologue and Mother Monster was right in the audience to react to the lighthearted joke. "I'm just coming up with this now that there can be 100 people in the room and 99 don't believe in you and you just need one to believe in you and that was Bradley Cooper," Oh said, to which Gaga laughingly yelled out: "It's true!" Samberg went on to push the joke one step further by repeating exactly what Oh said, giving the joke yet another extension of life.
Gaga and Cooper are both present at the 76th Golden Globe Awards to await the three nominations for A Star Is Born. The two stars and their film are nominated in the Best Drama, Best Actor and Best Actress categories.
Elsewhere in their opening monologue, Oh made mention of Hollywood's changing diversity front. "I said yes to the fear of being on this stage tonight because I wanted to be here to look out into this audience and witness this moment of change, and I'm not fooling myself," she said at the podium. "Next year could be different, it probably will be, but right now, this moment is real. Trust me, it is real, because I see you, and I see you, all of these faces of change, and now, so will everyone else."