Golden Globes 2019: Lady Gaga Wins, Taylor Swift's Surprise & More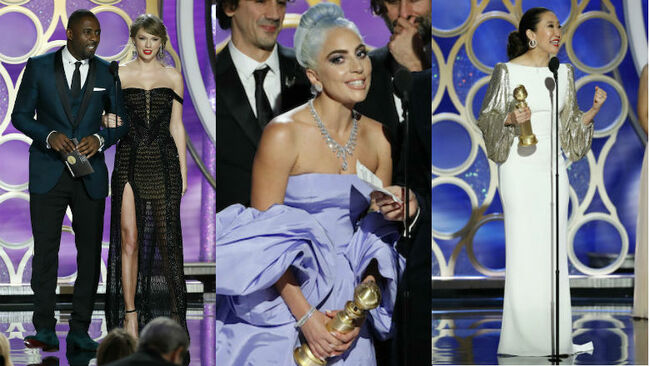 The 2019 Golden Globes kicked off awards season in a big way. Hosted by Andy Samberg and Sandra Oh (who is the first woman of Asian descent to host the annual awards show and who took home her own Globe), the evening was full of amazing moments highlighting all of the incredible achievements in Hollywood from over the last year.
From heartwarming acceptance speeches to emotional reactions, history being made to surprise celebrity appearances, this year's Golden Globes was full of unforgettable memories from many of the biggest stars in film and television.
Take a look at some of the best moments from the 2019 Golden Globes below.
Lady Gaga & Mark Ronson win for Best Original Song for "Shallow"
"Shallow" was not only a big part of A Star Is Born, and has since became a radio hit, the song also won Lady Gaga and Mark Ronson the Golden Globe for Best Original Song. Taking the stage to accept the award was Lady G and Ronson, with Mark saying, "You took a heartfelt honest tune and you gave it emotional resonance that we could've only dreamed of." He added, "Seriously, the way you weaved the lyrics into the film and the narrative of your beautiful heartbreaking film is why we're standing up here tonight, I believe." Gaga was visibly emotional while learning of the Golden Globe win as she shed a few tears while still in her seat.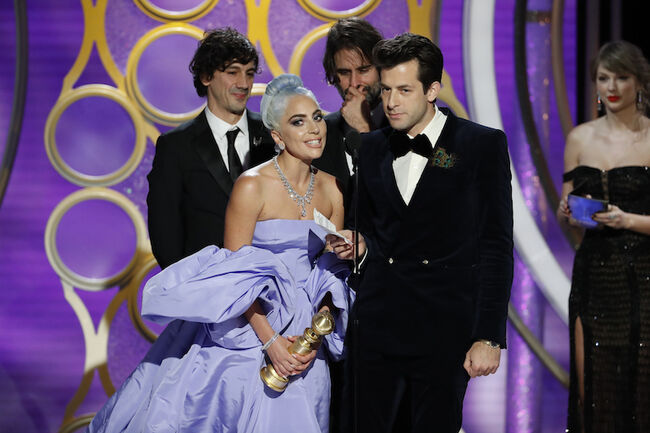 Taylor Swift Makes A Surprise Appearance
Taylor Swift surprised the Golden Globes crowd when she showed up mid-ceremony to present not just one, but two separate awards. The pop titan turned heads when she appeared on stage wearing a strapless black sequin Atelier Versace gown alongside Idris Elba to present Justin Hurwitz with the Golden Globe for Best Original Score for his work on First Man. To make her appearance even more worthwhile, she also announced that "Shallow," the theme song for A Star Is Born, won the title for Best Original Song. Unsurprisingly, Lady Gaga immediately burst into tears and continued to cry on stage over the accolade.
Nonetheless, Swift's appearance wasn't entirely out of the blue as she was on-site to support her boyfriend, Joe Alwyn. His film, The Favourite, was nominated for Best Motion Picture - Musical or Comedy.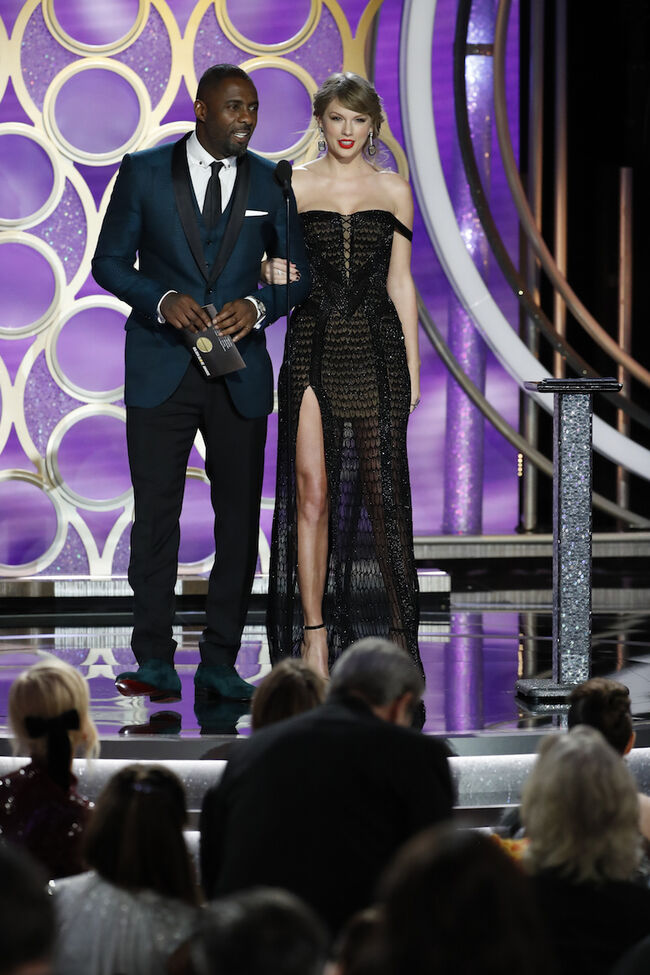 Sandra Oh Gave Us All The Feels
Sandra Oh made history as the first Asian American performer to co-host the Golden Globe Awards, and the actress celebrated the occasion with a speech on the importance of representation in the industry. Oh began by revealing she took the gig despite "the fear of being on this stage" because she "wanted to be here to look out at this audience and witness this moment of change" even though the following year could be different. "Right now, this moment is real," she went on, looking out at the crowd. "Because I see you. I see you. All of these faces of change. And now, so will everyone else."
Later in the evening, Oh won the Golden Globe for Best Performance in a Television Drama By An Actress for her lead part on Killing Eve, making history two-fold as the first actress of Asian descent to bring home the honor. The proud moment was made even more charming as her parents were spotted in the crowd with beaming smiles as they witnessed their daughter's historical accomplishment.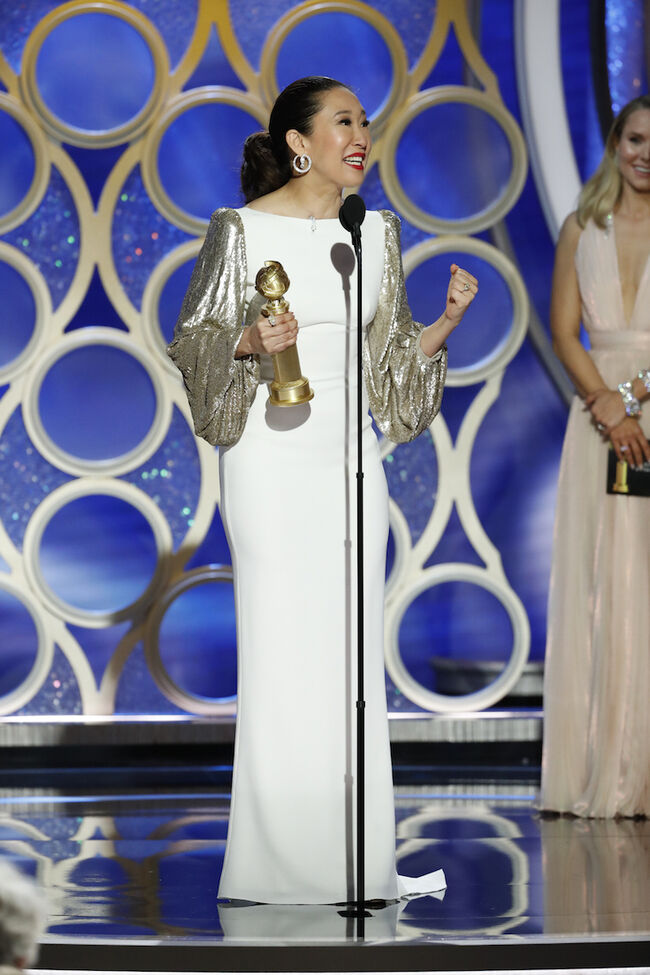 Sandra Oh & Andy Samberg Call Out Lady Gaga's "100 People In The Room" Meme
Speaking of co-hosts Sandra Oh and Andy Samberg, the two hopped in on the hilarity of Gaga's "100 people in the room" meme during their opening monologue and Mother Monster was right in the audience to react to the lighthearted joke.
"I'm just coming up with this now that there can be 100 people in the room and 99 don't believe in you and you just need one to believe in you and that was Bradley Cooper," Oh said, to which Gaga laughingly yelled out: "It's true!" Samberg went on to push the joke one step further by repeating exactly what Oh said, giving the joke yet another extension of life.
A Fiji Water Girl Managed To Own The Night
Before all eyes were on the Golden Globes stage, a Fiji Water girl was photobombing some of the biggest stars in Hollywood.
The Internet fell in love with the young woman who stood behind celebs in a strapless, royal blue gown and simply, but proudly, held up a tray of Fiji water bottles. While she sometimes looked away from the camera, she at many times dared to stare straight into the camera lens after she'd perfectly inched her way into a celeb's photo. Her truly next-level photobombing skills quickly became the Internet's first viral meme of the year with many praising her as the "best-supporting actress of the night." A parody Twitter account (which has a hilarious bio that reads: "You thirsty?") was also created on behalf of the Fiji Water girl, featuring some of the funniest reactionary tweets, including this one: "Dress for the job you want, not the job you have. #FijiWaterGirl."
Queen's Brian May & Roger Taylor Celebrate Bohemian Rhapsody Win
Bohemian Rhapsody had a few winnings moments when Rami Malek win the Golden Globe for his portrayal of Freddie Mercury. But, the film also won for Best Motion Picture Drama and a few of Queen's original members, Brian May and Roger Taylor were on hand to help celebrate the win.
Brian May Also Hung Out With Lady Gaga
Collaboration?!?!?!