Kacey Musgraves Wins Album Of The Year For 'Golden Hour' At The CMAs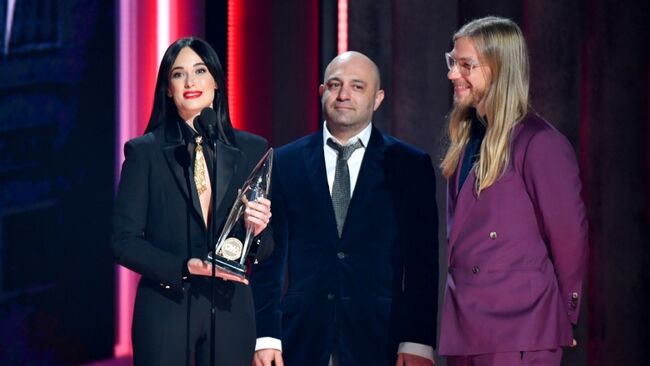 Kacey Musgraves proved to be a true believer on Wednesday night (November 14) when the singer/songwriter took to the 2018 CMA Awards and won Album of the Year for her critically-acclaimed Golden Hour despite calling out the ceremony for their gender disparity.
"This is really, really crazy timing, because I just realized this morning -- it sounds like a lie -- 10 years ago today I moved to Nashville," Musgraves kicked off her acceptance speech alongside the album's co-producers Ian Fitchuk and Daniel Tashian. "We poured everything we had into this [album], and I'm so proud of it." Prior to her big win, Musgraves performed "Slow Burn" off the LP, offering the audience with a taste of the heartfelt spirit of her album.
Earlier this year, Musgraves was honored with an Album of the Year nomination for Golden Hour, but still made it a point to call out the academy for their lack of female nominees. "I have the biggest heart for country music," Musgraves told Billboard. "And I'm honored to represent the female creative spirit as -- unfortunately -- the only female album nominated this year."
"There are many caveats to the current system that need a thorough rebuild. Inclusion on many different facets -- not just gender -- desperately needs to happen," she continued. "I'm hoping we can get back to a musical world where talent and uniqueness got you further than politics, where the quality of song was what would make you a household name. Can you imagine what that landscape could sound like? What future generations it could inspire?"