Jason Aldean & Miranda Lambert Perform 'Drowns The Whiskey' During CMAs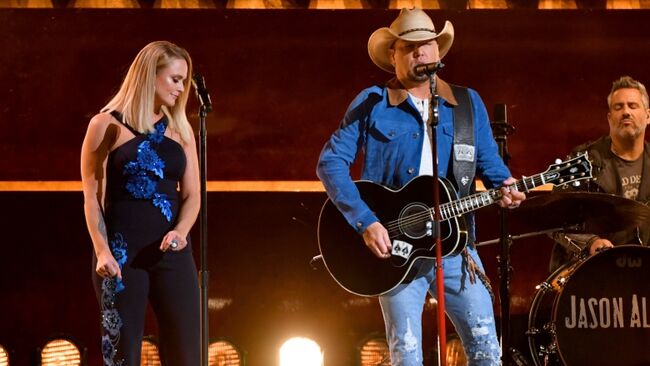 Miranda Lambert and Jason Aldean took to the 2018 CMA Awards on Wednesday night (November 14) and celebrated their No. 1 collab, "Drown the Whiskey," which serves as the second single from the latter's current album, Rearview Town.
During the performance, the country titans stood side-by-side in front of a shining light set that sporadically illuminated behind their band. "Whiskey's supposed to drown the memory/ I've gone from one to one too many/ And the thing that really gets me/ Is how your memory drowns the whiskey," the pair crooned during the chorus to the heartbreak anthem.
Earlier in this week, Lambert made waves for some controversial comments surrounding the collab, admitting that she only scored another chart-topper because she collaborated with a man. "Yes, I had to sing with someone with a penis to get a No. 1," Lambert told The Washington Post. "I do like this person, Jason Aldean, a lot ... so it was a great song with an old friend. It is interesting that I haven't had even a Top 20 in a long, long time. And then it goes No. 1 because it's a dude, but you know — if we went and looked at how many singles or records were sold for the Top 10 songs right now, I'd probably triple it on record sales. So it doesn't matter."
Nonetheless, the country veteran did receive plenty of love from the CMAs, scoring nominations in the Single of the Year, Song of the Year and Musical Event of the Year categories for "Drown the Whiskey." Lambert also nabbed a nomination in the Female Vocalist of the Year category.
Stay tuned for even more coverage from the 2018 CMA Awards, including an up-to-date list of winners, as well as memorable highlights from show hosts Carrie Underwood and Brad Paisley.