Florida Georgia Line, Bebe Rexha Add Serene Twist To 'Meant To Be' At CMAs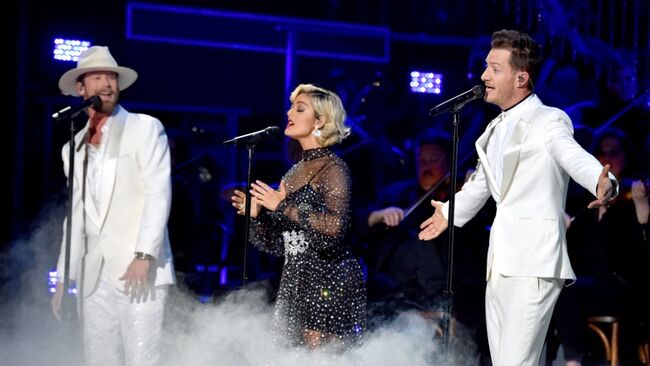 Florida Georgia Line and Bebe Rexha brought their smash collaboration, "Meant to Be," to Nashville on Wednesday night (November 14) to the 52nd Annual CMA Awards, but the acts decided to switch things up from their usual routine of the mid-tempo number.
More than halfway through the ceremony, Tyler Hubbard and Brian Kelley stood in front of the crowd in matching white suits as they kicked off the gentle remake of "Meant to Be." After their opening verse, Rexha appeared for her contributions decked out in some retro fashion alongside a piano and orchestra, alluding to the "little surprise" that the duo teased earlier in the press. With that orchestration, the acts helped breathe new life into the very song we've heard time and time again.
Prior to the number, FGL's Brian teased the significance of a new rendition of the number. "We've got a different type of performance scheduled. We've got a little surprise, a little different version of it, but it's gonna be super-powerful," Brian admitted to ABC. "We're just excited about getting out there, performing together. We've done it a couple of times, but I think this'll be the best, this'll be the most powerful and we're just excited about seeing the faces of our friends and family and fans....seeing their reactions and [hearing] their thoughts."
Despite the song's multiple nominations in the Single of the Year and Musical Event of the Year categories, Tyler Hubbard previously said that he'd prefer to win the former. "I think that song just deserves some recognition," he admitted. "I think it'd be cool to get up there and share a stage with Bebe — just to share that moment, I think it'd be really special."
Stay tuned for even more coverage from the 2018 CMA Awards, including an up-to-date list of winners, as well as memorable highlights from show hosts Carrie Underwood and Brad Paisley.