Robert De Niro's Trump Diss Gets A Standing Ovation At The Tonys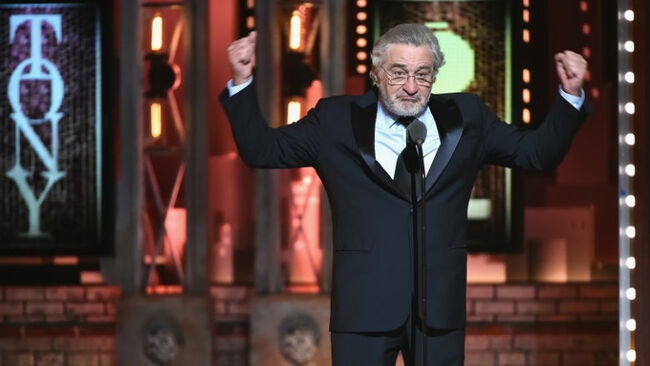 Robert De Niro pulled a fast one on CBS when the Hollywood titan took to the 2018 Tony Awards on Sunday night (June 10) to introduce a performance from Bruce Springsteen and snuck in a huge diss directed to President Donald Trump.
When De Niro walked onto the stage at Radio City Music Hall, he worked in the diss, yelling, "F*** Trump." He then pumped both fists in the air, leading the audience to offer him a standing ovation. However, CBS censors managed to bleep the phrase to keep it from hitting the air. "Bruce, you can rock the house like nobody else. Even more important in these perilous times, you rock the vote. Always fighting for, in your own words, truth, transparency, integrity in government. Boy, do we need that now," he continued. Click here to see the viral moment.
Later on in the night, Sprucesteen thanked the Broadway for embracing the star in their community. "Thank you. This is deeply appreciated and thanks for making me feel so welcome on your block. Being a part of the Broadway community's been a great thrill and an honor for me," The Boss admitted. "It's been one of the most exciting things I've probably ever experienced. I've got to thank Patti Scialfa, my beautiful wife and artistic partner, for her love and inspiration every night."
If you missed out on 2018 Tony Awards, click here for a full list of winners from the star-studded ceremony, which was hosted by Josh Groban and Sara Bareilles.