Bruce Springsteen Performs, Receives Big Honor At The 2018 Tonys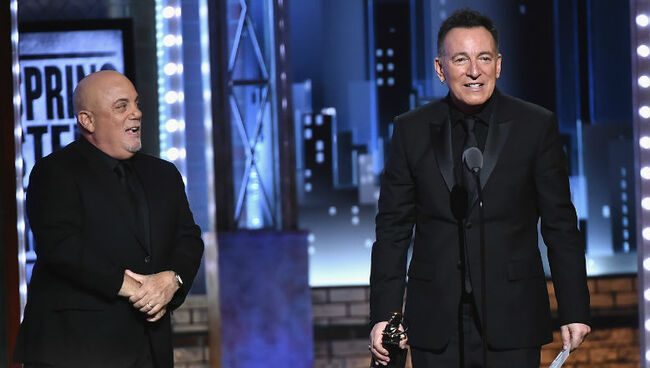 All eyes were on Bruce Springsteen when the rock icon was honored during the 2018 Tony Awards on Sunday (June 10) with a special introduction by Billy Joel. It served as a moment that would lead into a rocking performance of "This Is Your Hometown" at the star-studded Broadway ceremony.
For his performance, which was introduced with a huge diss to President Donald Trump, courtesy of Robert De Niro, The Boss hit the stage in a simple tee and jeans, and had the Radio City Music Hall audience in a moment of solace. It was the last show-based performance of the night and it made sense. After all, Springsteen on Broadway was the top-grossing new production of the 2017-2018 season.
"It is my pleasure to present a special Tony Award to my good friend Bruce Springsteen," Joel told the crowd at the podium during his introductions, before sharing a bit about Springsteen on Broadway. "It's all about the man and his music, not to mention his heartfelt stories behind 40 years of incredible songs. This extraordinary event began as an eight-week limited run, but by the time it wraps up in December, he will have played 236 performances. The Boss is working hard. So for bringing hundreds of thousands of theatergoers to Broadway, it's my pleasure to present the Special Tony Award to my good friend Bruce Springsteen."
Springsteen then took the stage to thank Broadway for embracing the star in their community. "Thank you. This is deeply appreciated and thanks for making me feel so welcome on your block. Being a part of the Broadway community's been a great thrill and an honor for me," The Boss admitted. "It's been one of the most exciting things I've probably ever experienced. I've got to thank Patti Scialfa, my beautiful wife and artistic partner, for her love and inspiration every night."
Prior to the big show, Josh Groban admitted that producers "kick of" kicked him and fellow host Sara Bareilles out of Radio City Music Hall. "The venue is abuzz with energy that Bruce is gonna be there," said Groban on The Late Show With Stephen Colbert. "Today we were rehearsing and there were 30 people just hanging around the stage because Bruce was going to rehearse. People just want to be around the guy, and we're very, very excited he's going to be there."