How to Recreate Dua Lipa's Makeup (VIDEO)
Dua Lipa has come a long way over the last year or two. From releasing her self-titled debut album, to collaborating with artists like Calvin Harris, Miguel, Sean Paul and more, the 23-year-old has successfully spread her fanbase from her native UK to the US, and throughout the rest of the world.
Over the last year, Dua has spent a lot of time touring, and is currently still on tour. But she'll also be performing during this year's Daytime Stage at the iHeartRadio Music Festival in Las Vegas, alongside a lineup of talented artists including Logic, 5 Seconds of Summer, Lil Uzi Vert, and more.
To prepare for her upcoming performance in Vegas, iHeartRadio teamed up with makeup artists Ruthie Weems and Jonny Polizzi from the Center of Makeup Artistry & Design to recreate one of Dua Lipa's performance looks during iHeartRadio's Face to Face segment. Dua is not afraid to be bold and daring with her makeup, and this pink eyeshadow look is electric ... much like her new song with Silk City (Diplo & Mark Ronson) "Electricity." Now you can recreate Dua's amazing makeup at home.
Step 1: Pack on the pink cream eyeshadow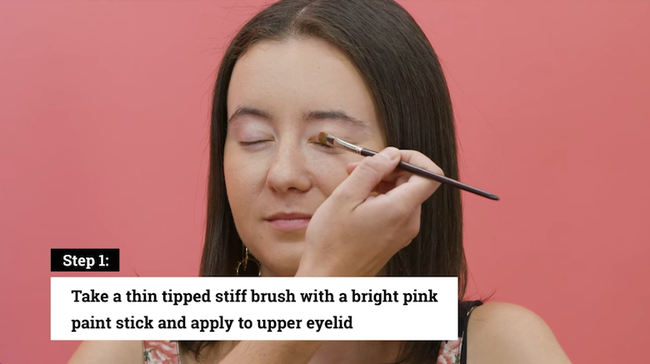 Step 2: Take a powder pink eyeshadow and press into the lid to set the bright pink you've just applied
Step 3: Repeat on the other eye
Step 4: Don't forget the powder eyeshadow on the other eye!
Step 5: Add some shimmer to the center of your eyelid
Step 6: Blend your eyeshadow underneath your eye
Step 8: Add a light pink/nude lip gloss
Then, be prepared to follow all the "New Rules," because you're Dua Lipa!