Daytime Stage At The 2018 iHeartRadio Music Festival FAQ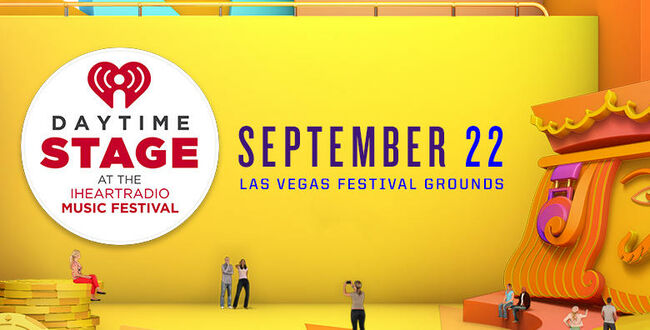 With the music festival scene well underway, it's only a matter of time before the Daytime Stage at the 2018 iHeartRadio Music Festival is upon us. For this year's festivities, we're at a brand-new venue with a star-studded line-up that is set to amp you up. If you have questions about the daytime affair, we're here to help with a breakdown of all the important stats. Scroll on below to learn more about the Daytime Stage.
The Big Date:
Mark your calendars as it all goes down Saturday, September 22.
Line-up:
This year's festival roster will be released on Monday, April 30. Keep your eyes peeled at the official event website for an announcement that'll be worth the wait.
Venue:
We've moved the Daytime stage to the Las Vegas Festival Grounds next to Circus Circus. It's a lot bigger than our previous grounds and that'll give you even more space to dance. Doors to the event open at 10 AM PT.
Las Vegas Festival Grounds - 311 W Sahara Ave Las Vegas, NV 89109
Tickets:
Tickets to our Daytime Stage at the iHeartRadio Music Festival are available for purchase EXCLUSIVELY at iHeartRadio.com/Tickets. For the Daytime Stage, children under 5 are admitted free. Oh, and bulk ticket purchases aren't available. In fact, there's a maximum of 12 tickets per order. Ticket purchasers will be mailed an exclusive Daytime Stage RFID wristband, which will be used as your admission ticket. No physical tickets will be distributed to this year's Daytime Stage.
If you already have tickets to the iHeartRadio Music Festival, you will still need to purchase separate tickets to attend the Daytime Stage. Conversely, if you already have tickets to the Daytime Stage, you will still need to purchase separate tickets to attend the iHeartRadio Music Festival at the T-Mobile Arena.
Note: Ticketmaster is our only official ticket provider. Only purchase tickets through a reliable and trusted source - we are not responsible for tickets purchased through 3rd party providers.
Age Requirement:
All ages are welcome. While it's free for children under the age of 5 years old, an adult must accompany anyone under the age of 16.
Entry:
To enter or exit the Daytime Stage at the iHeartRadio Music Festival, you'll be scanned in scanned in and out. Yes, re-entry is allowed at the Daytime Stage. Festival security will also search all persons and bags prior to entry.
Parking:
Unfortunately, there is no parking available at the Festival Grounds.
Food/Drinks:
There will be food & drink vendors, bathrooms, and ATMs on-site at the Daytime Stage. Additionally, free disposable cups and water will be available. Lockers are not available.
Handicapped/Disabled Accommodations:
The Daytime Stage at the iHeartRadio Music Festival is handicap accessible. We generally have one or two platform areas that are handicap accessible and those accommodations are handled at the front gate with the ushers. If you have any questions, please relay them to the ushers upon entering.
Service Dogs are allowed; they must have the necessary service dog vest so they can be identified properly.
Weather:
The Daytime Stage at the iHeartRadio Music Festival is rain or shine. All tickets sales are final.
Authorized Items:
The following are ALLOWED at the Daytime Stage at the iHeartRadio Music Festival:
OK Factory Sealed Brand Water Bottles

OK Backpacks (medium)

OK Stroller

OK All Ages Welcome

OK Hats

OK Sun Block

OK Lighters

OK Cell Phones

OK Sunglasses

OK Camelpacks (EMPTY)

OK Shoes

OK Cigarettes/Cigars

OK Small Beach Towel

OK Fanny Packs

OK Digital Cameras (Non-Pro)

OK Film Cameras (Non-Pro)

OK Binoculars

OK Small bags/purses

OK Ear Plugs

OK (1) Sealed Water Bottle
Prohibited Items:
The following items are prohibited from being brought into the Festival Grounds:
NO P

rofessional grade cameras, cameras with detachable lenses & recording devices

NO Musical Instruments

NO Knives / Weapons / Etc. (Regardless of Permits)

NO Chains / Chain Wallets (No Studded Jewelry)

NO Fireworks / Explosives

NO Blankets / Sheets / Large Towels

NO Outside Food & Beverages

NO Bota Bags

NO Tents of any type

NO Flags, Signs or large obstructive material

NO Tailgating in Parking Lot

NO Chairs of any type or size

NO Video Cameras (Large) (Professional Recording Devices)

NO Audio Recording Devices

NO Professional Cameras

NO Stuffed Animals

NO Pets (Service animals only)

NO Drugs / Drug Paraphernalia

NO Umbrellas

NO Cans or Glass Containers

NO Disposable containers

NO Sticks, Bats or Clubs including signs (or anything that could be deemed as being a weapon)

NO Toys, Water Guns or Squirt guns

NO Bikes

NO In-Line skates, Roller skates, Skateboards

NO Lockers Available

NO Laser Pointers

NO Sharpies / Markers / Spray Paint or Glow Sticks

NO Balloons / Balls / Inflatables

NO Unauthorized Solicitations, Handbills, Sampling, Give-Aways, Etc.

NO Refunds or Exchanges or Cancellations

NO Air Boards or Hoverboards

NO Drones

NO Tactical Gear (Ballistic Vest etc.)

NO Face Makes of any kind (Gas mask included)
Lastly, if you were not able to purchase tickets, please keep your radios locked to iHeartRadio radio stations across the country on a daily basis because we will be giving away tons of tickets to the iHeartRadio Music Festival. You can find more ways to win tickets here!