Troye Sivan Brings His True Colors To Fan-Chosen Set At iHeartRadio Music Festival Daytime Village
Imagine what it would be like to harness the power to create the setlist to your fave's concert performance. Well, that sort of fan fantasy came true for Ally Waring, who was the lucky contest winner chosen to form the setlist for Troye Sivan's iHeartRadio Music Festival Daytime Village set on Saturday afternoon (September 24).
Introduced by some familiar iHeartRadio personalities and rising pop star Jordan Fisher, the 21-year-old kicked up the Daytime Village energy with that very five-song set, which was chosen by the 16-year-old New Yorker. With his tie-dye sweater and glitter smeared across his face, the singer started off with his Alessia Cara remix of "Wild" and later made his way through familiar Blue Neighbourhood cuts like "Fools," "Cool," "Lost Boy," before wrapping up with his breakout hit, "Youth."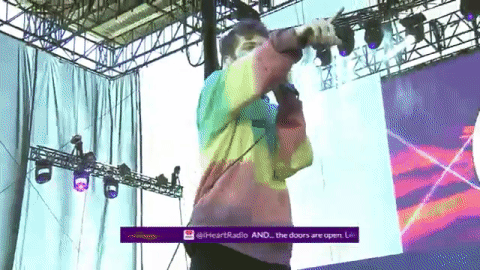 After his set, iHeartRadio caught up with Waring, who flew to Las Vegas with her mother, and spoke about choosing his set. "I've been to a couple of his concerts before and those are my favorite songs that he's sung live, so I just decided to put them in the order that would be best," the 16-year-old said. "He didn't perform 'Lost Boy' the last time I saw him and I really wanted to see him sing [that] again."
Further pushing our motto of pairing listeners with their favorite artist, iHeartRadio also brought Ally one step closer to the Aussie with a M&G after the show. "I ran up to him and hugged him and said I loved him so much," she gushed about the experience.
In less than a month, Troye is set to take the country by storm with his "Suburbia Tour," which is well underway with rehearsals. The trek will kick off on October 16 in San Francisco and make way to major markets until the middle of November. Click here for a list of tour dates.
Photo: Chris Owyoung for iHeartRadio