Tim McGraw Caps Birthday Week With Hits-Filled iHeartCountry Performance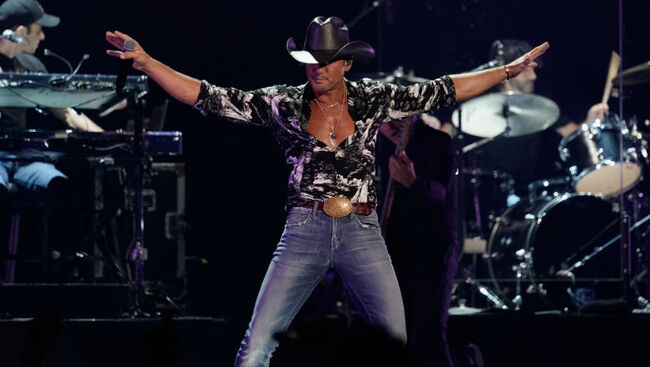 Tim McGraw is nothing short of a living legend and the country luminary put his extensive amount of hits at the forefront of things to close out the 2019 iHeartCountry Festival presented by Capital One® on Saturday night (May 4).
During the 30-minute set, McGraw brought his signature cowboy hat and suave demeanor to deliver the many hits from his three-decade career. From "Truck Yeah" to "Southern Voice," "All I Want," "Barbecue Stain" and so much more in between, the 52-year-old left it all on the Frank Erwin Arena stage and the essence from those very songs, including his new single "Thought About You," was undeniable. What's interesting about watching a veteran like McGraw is just how much he can still command the stage and audience. (At one point in the set, he played with the crowd's cheering volume like a maestro.) "Thank y'all for having me. First off, I want to thank iHeartRadio for having me here this evening. I think the last time I was here was three years ago and I appreciate you coming out and see me. Look, there's some great, great, great artists in country music right now," he told the crowd.
McGraw went on to explain that he feels very blessed and grateful to be able to share the stage with so many other acts, poking fun at Florida Georgia Line in the process. "Those guys get under my skin a little bit because they don't like me very much," he said, before backtracking. "No, I'm kidding. We have a great song together. I love Florida Georgia Line. Come on, Little Big Town. I can't remember everybody's name, but I love all these new artists. I learn something from them every time I see them."
It's a good time for McGraw. On Wednesday, he celebrated his 52nd birthday and wife Faith Hill took to social media to share some well-wishes alongside a shot of the two on vacation. He also recently headlined a free concert in Nashville to celebrate the city hosting the NFL draft and ended up bringing Hill out for a brief appearance on his hit "I Like It, I Love It."
If you liked what you saw from the Bobby Bones-hosted festival, head on over to iHeartRadio.com/CountryFestival to see all the happenings on stage and backstage of the star-studded show!

iHeartCountry Festival
See the best moments from our 2019 iHeartCountry Festival held May 4, 2019 at the Frank Erwin Center in Austin, TX.