Little Big Town's 'Daughters' Performance Was Too Fitting For iHeartCountry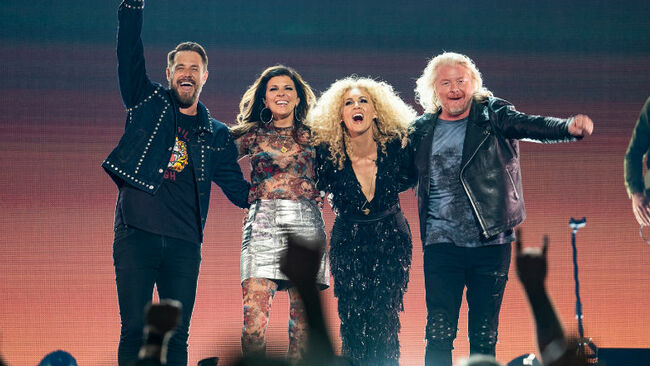 Shortly after Little Big Town was announced as the new host of the CMT Music Awards, Karen Fairchild, Kimberly Schlapman, Phillip Sweet, and Jimi Westbrook took to the 2019 iHeartCountry Festival presented by Capital One® in Austin, Texas to offer the audience with hits from the past, as well as their newest single, "The Daughters,"
During their 25-minute Saturday (May 4) set, the quartet took to the stage with their band behind them as they swayed to the slinky sounds of "Pontoon." The four-piece followed up with renditions of "Better Man," "Front Porch Thing," "Girl Crush" and "Boondocks." However, the highlight from their was their rendition of their new single, "The Daughters." Now, they've performed the single at the 54th ACM Awards, but there's a reason why it's important they continue to push the song. "The Daughters" hears the collective spread a similar progressive agenda as they did with "Girl Crush" a few years back. "We've only sung it a couple of times. This is a song for all the little girls out there and all the good men in the house that are raising up or caring for the daughters," Fairchild told the audience. It all comes at on a fitting night after the all-female cover of Shania Twain's "Man! I Feel Like a Woman" with Lauren Alaina, Tenille Townes and Caylee Hammack.
"And pose like a trophy on a shelf/ Dream for everyone, but not yourself/ I've heard of God the Son and God the Father/ I'm still looking for a God for the daughters," they gentle crooned during the emotional hook.
In a recent interview with the band, Schlapman, who has an 11-year-old daughter named Daisy with her husband, Stephen, explained their emotional attachment to the track. "We each are raising daughters. So this song is about daughters and just teaching girls that [and] believe in yourself and you can do anything. Traditionally, women haven't had the freedom to do everything maybe that they've always dreamed of — but we do."
If you liked what you saw from the Bobby Bones-hosted festival, head on over to iHeartRadio.com/CountryFestival to see all the happenings on stage and backstage of the star-studded show!
Photo: Ismael Quintanilla for iHeartRadio

iHeartCountry Festival
See the best moments from our 2019 iHeartCountry Festival held May 4, 2019 at the Frank Erwin Center in Austin, TX.