Watch: Bizarre Three-Horned Cow Spotted in Uganda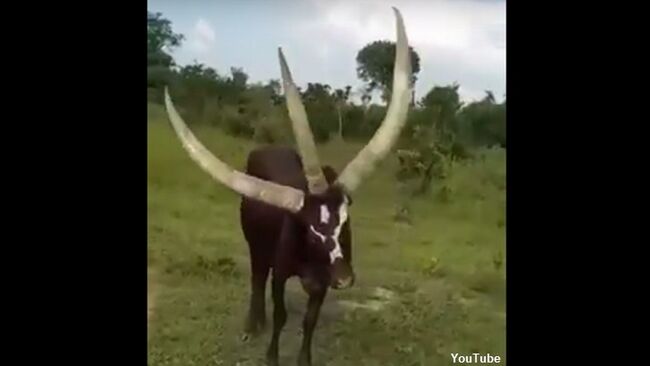 A jaw-dropping video circulating online shows a cow in Uganda that sports three massive horns coming out of its head. The all-too-brief piece of footage was posted to Twitter earlier this week by a Ugandan cattle keeper named Rubabinda, who shared the video with his followers and marveled that "wonders never cease!" The strange scene has since accumulated a whopping four million views in just a few days as observers online were left astounded by the sheer size of the creature's horns, which look to measure several feet in length.
Beyond merely being a wondrous sight, it would appear that the three-horned cow is something of a mystery as a Ugandan cattle breeders group responded to the tweet saying that they are "searching for the owner" of the animal. Apparently, Rubabinda received the footage second hand as he echoed the group's sentiment. "Let us find this unique animal," he said, so that experts can analyze its genetics and provide it with a proper place to live.
You can check out the amazing footage of the three-horned cow at the Coast to Coast AM website.

Coast to Coast AM with George Noory
Want to know more about Coast to Coast AM? Get his official bio, social pages & articles on iHeartRadio!
Read more