Creepy Halloween Decoration Prompts Call to Cops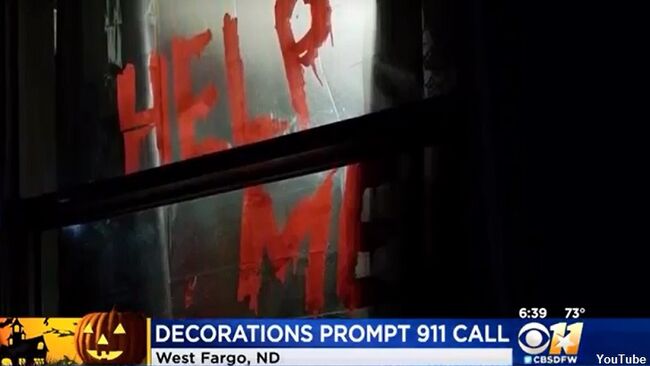 A North Dakota couple who happen to be big fans of Halloween decided to start decorating early and wound up giving one of their neighbors quite the scare. Becky Muhs explained to a local TV station that Halloween is her favorite holiday and not only were she and her husband married on October 31st, but that her birthday is just two days prior to All Hallow's Eve. And so, as the spooky season was set to begin last weekend, the couple decided to begin putting up decorations the holiday.
However, an ill-timed dinner break in the middle of decorating let to an unsettling moment in the neighborhood. That's because Muhs affixed a realistic-looking sign in their window that appeared to be the message 'Help Me' written in blood. Without putting up anything else, the couple then departed for a birthday party with plans to finish their project later that day.
As one can imagine, the otherwise normal-looking house with what looked like a bloody cry for help in the window raised eyebrows among those who live next door. Find out more on this amusing story at the Coast to Coast AM website.

Coast to Coast AM with George Noory
Want to know more about Coast to Coast AM? Get his official bio, social pages & articles on iHeartRadio!
Read more