Famed 'Fairy' Photos Up for Auction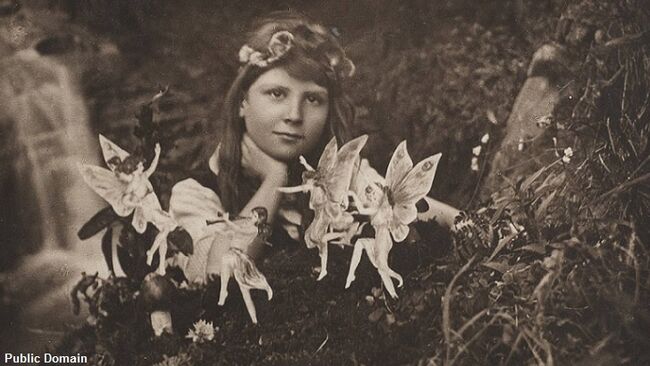 A pair of photos that were part of a notorious hoax known as the 'Cottingly Fairies' will soon go up for auction in England. The images, which allegedly showed fairies frolicking alongside two young girls, became something of a sensation in the late 1910's among paranormal researchers of the day and the public at large. In a testament to how the times have changed, the veracity of the clearly-fabricated photos were hotly debated at the time. In fact, famed Sherlock Holms creator Sir Arthur Conan Doyle actually investigated the images vigorously and concluded that they were real.
The debate over whether or not the images were genuine continued for decades until the two girls behind the photos, Elsie Wright and Frances Griffiths, confessed in 1983 to faking them. According to the remorseful hoaxers, the fairies were simply drawings which they had cut out of a book and carefully positioned to appear as if they were interacting with the girls. And, as is often the case when it comes to pranks that take on a life of their own, the youngsters were ashamed about having fooled so many people, especially renowned author Doyle, and so they simply kept quiet about the trickery.
Despite the dubious nature of the images, they are undoubtedly a significant part of paranormal history and could soon be in the hands of collectors. Find out the shockingly-low price that the photos are expected to fetch at the Coast to Coast AM website.

Coast to Coast AM with George Noory
Want to know more about Coast to Coast AM? Get his official bio, social pages & articles on iHeartRadio!
Read more