The 'Golden Yeti' Recipient for 2018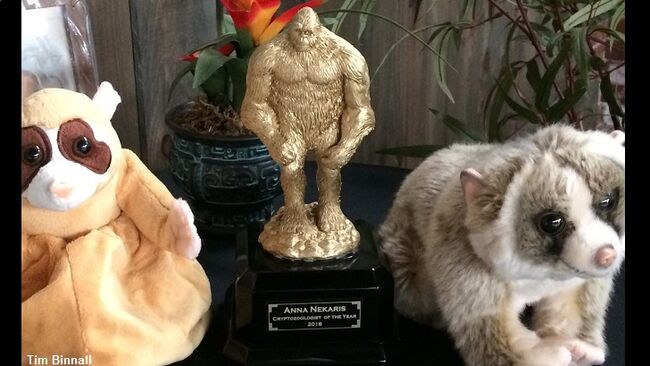 Primate conservationist Dr. Anna Nekaris has been named the 2018 recipient of the prestigious 'Golden Yeti' award for outstanding work in the field of cryptozoology. Presented by the International Cryptozoology Museum each year, the honor recognizes figures who have done exemplary work in the field. Previous winners have included filmmaker Seth Breedlove, creator of the acclaimed 'Small Town Monsters' series and prolific author Karl Shuker, who has penned over two dozen books on cryptozoological topics.
In the case of Dr. Nekaris, her 'Golden Yeti' celebrated the professor's exhaustive work studying lorises, which are diminutive nocturnal primates living in tropical parts of India, Sri Lanka, and southeast Asia. According to a profile of the professor penned by Loren Coleman of the ICM, her formidable research into these creatures spans a stunning 56 published scientific papers and field research projects studying lorises in four different countries.
Her role in elevating the profile of the creatures is particularly noteworthy in that she has helped to raise awareness of the dangers facing lorises, which are often targeted by poachers since their adorable appearance makes them appealing in the exotic pet trade.The animals are also doubly troubled because they are also seen by some native cultures as having some kind of medicinal value.
More on Dr. Nekaris' tremendous research, including her work specifically in the realm of cryptozoology, at the Coast to Coast AM website.


Coast to Coast AM with George Noory
Want to know more about Coast to Coast AM? Get his official bio, social pages & articles on iHeartRadio!
Read more